Back to News 30 August 2020 by Kela Hodgins in Food & Recipes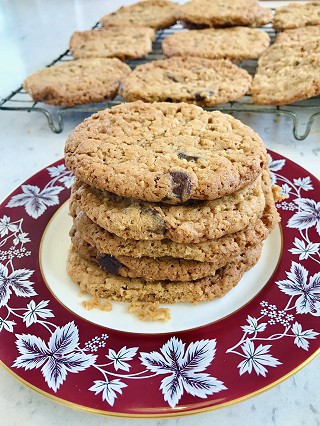 Our youngest in back in school this Monday and like many of you out there, I am so relieved. It is worrying not knowing how long they will be in or back out for but at the moment, I'm relishing the fact I don't have to jump-start the brain to remember the finer details of 6th class Maths or Irish!
There are plenty of recipes out there for lunchbox and "back to school" ideas – instead I've got a few recipes here for the grown ups. These Cookies are perfect when you finally get the chance to sit down in a peaceful kitchen with a cup in hand. Enjoy it while it lasts!!
Use the same base recipe and alternate the ingredients to give you a Peanut Butter and "Bounty Bar" version.
175g butter, softened
250g plain flour
1/2 tsp bicarb soda
100g caster sugar
200g soft dark brown sugar
2 tsp vanilla extract
1 egg & 1 egg yolk
1. Preheat oven to 170C and line two baking trays with parchment paper.
2. Cream the butter, brown sugar, caster sugar together with a electric whisk until light and well combined.
3. Add in the egg, egg yolk and vanilla then mix again until light and creamy.
4. Sift in the flour and bicarb soda then mix again until just blended – do not over mix.
Chocolate & Coconut "Bounty" Cookies:* After stage 4 above, add in 150g dark chocolate chips and 150g desiccated coconut. Stir gently with a wooden spoon until just combined.
Peanut Butter Cookies:* Make the dough up until you complete stage 3 above, leaving out the vanilla extract. Mix in 150g chunky peanut butter and 150g chopped walnuts. I got my hands on a jar of Harry's Nut Butter which is slightly spicy (and absolutely delicious) but use your preferred crunchy peanut butter. Add in the flour & bicarb soda then mix again until blended.
5. For both versions, drop tablespoon size amounts of mix onto the baking sheet. Space out well and don't flatten the dough as it will spread itself during cooking.
6. Bake in the preheated oven for approx 15 mins until golden around the edges. Remove and allow to cool for a few minutes on the baking trays before transferring to a wire rack to cool completely.
7. I added a sprinkling of sea-salt flakes over the top of the peanut butter cookies which made them even more delicious!