Back to News 17 December 2022 by Kela Hodgins in Food & Recipes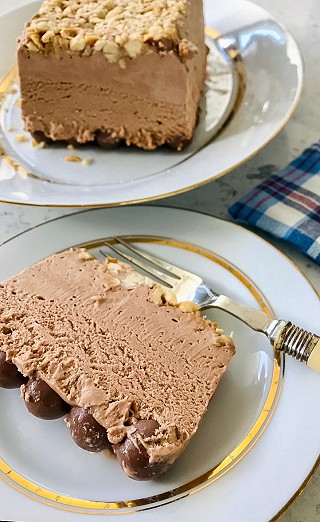 Malteser Hazelnut Parfait
The is a fantastic dinner party option and can be made at least a day in advance and whipped out of the freezer just 20 minutes before serving. From experience, the combination of Maltesers, Nutella, Hazelnuts & cream is a real crowd pleaser.
Ingredients:
170g cream cheese (I use Light Philadephia for this one) 1 tsp vanilla extract 2 large free range eggs, separated 125g Nutella 80g caster sugar 250ml double cream 50g roasted hazelnuts, roughly chopped 1 x large bag Maltesers
Method:
Line a 2lb loaf tin with clingfilm and scatter the chopped hazelnuts over the bottom.
Whisk the eggs whites until stiff, then whisk in 40g of the caster sugar until still and glossy.
In separate bowl, beat the cream until thick.
In another bowl, beat the cheese, vanilla, egg yolks, Nutella and remaining 40g caster sugar until smooth.
Fold the cream into the Nutella mix until combined, then gently fold in the egg whites.
Pour cream mixture into tin on top of hazelnuts and smooth top. Then top with rows of Maltesers. Freeze until set….approx 6 hours or overnight.