What Guests Love About Dunowen House


Since we opened our doors in 2014, visitors to Dunowen House have been wonderful at sharing feedback about their stay with us.
Thankfully the reviews have been fantastic and we appreciate every single one of them.
The following selection of Guest Comments, Tripadvisor Reviews and Press, gives you an idea of what to expect when you visit us:
Guest Feedback
"We were beyond lucky to accidentally stumble upon Dunowen House while researching wedding venues. A quick look at their Instagram page and we were sold without even visiting the house. Kela and Stephen took fantastic care of us, from the freshly baked scones on arrival, to getting the fires lit in the morning. They worked with us to prepare the rooms for our wedding ceremony and meal and the meal itself was perfection. Both the vegetarian and meat dishes were absolutely delicious and the desserts were to die for.

The small number of us that could be there due to COVID restrictions were able to enjoy a wonderfully relaxing time in this stunning house, with it's comfortable and stylish bedrooms, living and dining areas. We could not recommend it highly enough as a place to have a small intimate wedding. Top notch venue, service, and wonderful countryside and coastline nearby as well. We will 100% return for another stay!"

— Annie & Dan, Intimate Wedding, January 2021
We stayed in Orchard Cottage for the last week in August 2020 and it was brilliant. We are a family of 4 and all loved the cottage and the gardens. The level of cleanliness was exceptional and in general there was a very welcoming feel to the place. Kela, Stephen and family are great hosts and were very nice, always having time to talk to the kids. The surrounding area is so beautiful, with some of the best beaches in Ireland to explore, lovely walks and really great restaurants to experience. Highly recommend to all.

— Gareth Young
"This place was spectacular. The attention to detail (fire lighting, freshly baked bread and scones on arrival) coupled with warm welcome was the start of a great weekend for my sisters hen. The grand proportions of the rooms and the pristine decor honestly made us not want to leave to venture into Clonakilty. We did though, but not before a delicious 3 course meal served up to us in the house! Dunowen House is a gem and I just hope the next time I try and book it there will be a vacancy because places as good as this get booked up fast."

— Yvonne O'Grady
"I had my hen party in Dunowen house this weekend and I had an absolute ball! The house is fabulous, the grounds are beautiful and the little beach close-by is breathtaking! We had dinner in the house served by Kela and Stephen which was also top notch! Thank you guys so much for such a memorable weekend!"

— Jean Conlon
Media Coverage
How to create the Perfect Holiday Escape, we speak to the experts. Dunowen House interviewed by Joanne Hunt, Irish Times, June 2023 "You want to go somewhere at least as nice as your own house," says Kela Hodgins, owner of Dunowen House. Expect a five-star hotel vibe and music memorabilia in this luxury six-bed 18th-century rental she runs with husband Stephen…."
Listen to us discuss our Escape to the Country adventure with Ed Finn of Sunshine Radio, April 2023"The couple have learned on the job, with the business evolving to meet the needs of its clientele….."
A decade providing laid-back luxury, Irish Echo, March 2023 - By pure chance they found Dunowen House, immediately igniting the fuse for its next evolution: As a haven of laid-back luxury where good food and good vibes are the new rock and roll - Interview Kate Ryan, WOW Bites, Echo Newspaper
Top Venues in Ireland for your Intimate Wedding, Irish Independent, June, 2021 - Think small for your big day: Top Venues in Ireland for a Micro-Wedding
Best Private Rentals for your Bubble Break, The Gloss, June 2021 - One of Ireland's leading private rental properties
Intimate Weddings, Irish Examiner, February 2021 - Why smaller weddings might be a trend that's here to stay
Rockstar Retreat, Irish Examiner, September 2020 - 5 Star hotel vibe and music memorabilia
Stunning Self-Catering, Irish Country Magazine, 2020 Select Irish escapes
The Gloss Magazine - Wild Atlantic Women, Penny McCormick interviews Kela Hodgins about coastal living, creativity and living on Irelands Wild Atlantic Way.
Instagram Inspiration, Irish Farmers Journal, December 2020 - The place to find Cake Monday, interior inspiration and stunning seascapes
Ireland's Blue Book - A member of Ireland's most prestigious group of historic hotels and country houses since 2019. Irish Tatler celebrates Irish Hospitality, Irelands Blue Book
Independent Reader Travel Awards - Dunowen House is one of Top 6 Small Stays in Ireland
McKenna's Guides – Best in Ireland, "Kela and Stephen's Dunowen House is a jewel, and one of the dream destinations in Ireland…"
The Fab 50: Ireland's 50 Best places to stay - Independent Newspapers, April 2018
How to Hen like Meghan Markle in Ireland - thevow.ie March 2018
Rock Star Living – Irish Country Magazine visits Dunowen House, September 2017
The Dunowen Experience: West Cork Bolthole a hit for group getaways – Pól O Conghaile, Travel Editor, Irish Independent, May 2017
Living the "Good Life" - Out of the rat race and into the chicken run! - The Irish Times, 2016
Food & Recipes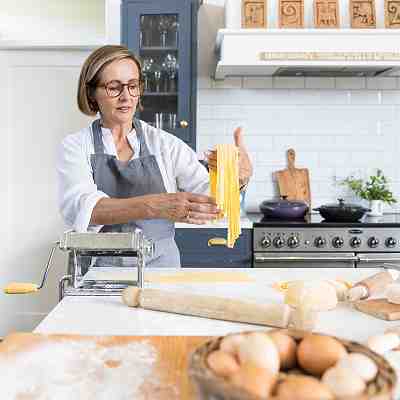 Learn the secrets of Italian Cooking New Winter Cookery Courses at Dunowen House
Latest News
Have you ever wanted to learn how to make your own fresh pasta? Uncover the secrets that make Italian food so delicious? Then…