Places to see, things to do
With so much adventure waiting on our doorstep, we thought you might like some insider tips on things to do while you stay with us:
Looking to head out for the day and explore the area? We've put together a few suggestions, some perfect for families and some ideal for couples or groups of friends. There is so much to choose from, you could easily do something new and different every day of your holidays. These are just a sample, feel free to ask us for more recommendations!
Day 1: Clonakilty

Exploring our local town of Clonakilty is always a great way to get a sense of the place early in your visit. It is a vibrant historic market town, full of independent retailers and a dynamic arts, music and food scene. We have such a variety of indoor and outdoor attractions to keep young and old entertained, no matter what the weather. Here's a selection:
Michael Collins, Irish patriot, revolutionary hero & "The Big Fella" - If you have an interest in the story of Irish Independence, then we recommend visiting the Michel Collins House, a museum located in the restored Georgian house on Emmet Square or the Michel Collins Centre in a restored farmhouse and buildings at Castleview, 10 minutes drive from Clonakilty.

Clonakilty Distillery - Award winning Clonakilty Distillery is located in the heart of the town, easily identifiable by the three huge copper pot stills you can view through large windows. Take a guided tour, a tasting of their whiskey and gin or book a place in their Gin School where you can create your own unique bottle of gin to take home.

West Cork Model Railway Village - Always a popular with families visiting Clonakilty, the model railway village is a fully scaled model of the historic West Cork Railway line with miniature trains, boats, recognisable village buildings and figurines telling the story of life here in the 1940s. Included in the ticket price is a tour around Clonakilty town in a road train, loved by small (& not so small!) kids.

Clonakilty Blackpudding Visitor Centre - If the Ireland is the home of the Full Irish Breakfast, then Clonakilty is the home of some of the essential ingredients on that delicious plate. Recently opened, you can visit the home of one of Ireland's most famous food brands and experience this Irish food story through an excellent self-guided tour.

Clonakilty Adventure Centre & Cinema - For the adventurous (and not so adventurous) you can enjoy the adrenaline rush of a high-ropes activity circuit, adventure golf and a cinema all in one location.

Clonakilty Famers Market Friday mornings from 10am head in to Emmet Square in the centre of Clonakilty where you will find local producers, growers, craft makers as well as coffee and food stalls. Come away with the makings of a delicious lunch or supper to enjoy back at Dunowen House.
Day 2: Baltimore & Sherkin Island (1/2 day or full day trip)

The harbour village of Baltimore is 45 minutes drive from Dunowen, via Skibbereen and along the famed Wild Atlantic Way route. We recommend you park close to Baltimore centre then take the signposted coastal walk up to the iconic Baltimore Beacon. The beacon is located on high sea cliffs at the mouth of the harbour and offers absolutely stunning views of Sherkin and Cape Clear islands, across Roaring Water Bay to Mount Gabriel and inland to rolling hills of green.
Walk back to the village and stop for a fresh crab sandwich and a Guinness at Bushes Bar, watch yachts, dinghies and fishing boats come and go below you. Extend your day out by taking the 15 minute ferry ride across to Sherkin Island, where you will find an historic Franciscan Friary overlooking the pier, a choice of deserted and unspoilt beaches, quiet lanes and a slower pace of life. The Jolly Roger is a characterful island bar serving food and drink. Check ferry times and Sherkin information on their own website www.sherkinisland.ie
Day 3: Bantry, Glengarriff and Garnish Island (full day trip)

First stop bustling Bantry town, the wide expanse of the beautiful Bantry Bay and the historic elegance of Bantry House & Gardens. You could easily while away a few hours here, with tasty cafes, cake shops (The Stuffed Olive), a visit to Bantry House and a spot of craft shopping (Forest & Flock). Bantry.ie
Glengarriff is 20 minutes further along the coast, with stunning coastal scenery, woodlands, traditional Victorian feel and of course the famous 19th Century Italianate Gardens of Garnish Island (or Ilnacullin). We highly recommend the short ferry ride past curious seal colonies and birdlife to the sheltered island, its rare collection of plants, trees and historic buildings all beautifully maintained. If you don't get out to Garnish, there's still plenty to see including the Blue Pool inlet, Glengarriff Bamboo Park and the Glengariff Woods Nature Reserve. Glengariff.ie
Day 4: Timoleague Abbey & Courtmacsherry


A 20 minute drive east along the Wild Atlantic Way and you come to the historic towns of Timoleague and Courtmacherry. Timoleague gets its name originally from the Gaelic Tigh Molaga, meaning house of Molaga, who apparently brough beekeeping to the area in the 6th Century. The well preserved Friary was founded in 1240 and is really worth exploring. Take the flat coastal road towards Courtmacsherry, a small fishing town with picturesque walks, beautifully restored Georgian houses and a great little selection of bars and cafes serving delicious seafood and cakes. Explore West Cork, Timoleague & Courtmacsherry
Food & Recipes
One of our favourite Christmas Day desserts!
Latest News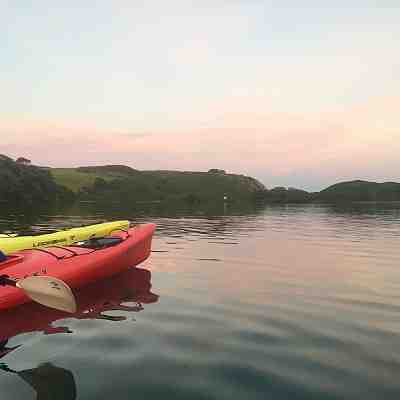 If you're thinking about a trip to Clonakilty or the greater West Cork area this Summer, now's a good time to start…