Luxury Bedroom Suites
Dunowen House has six spacious bedrooms, all with their own private en-suite bathrooms. The rooms are styled and configured individually, with some sleeping two guests and others able to accommodate up to four guests. All include quality bedlinen, towels, toiletries and slippers. Five of the bedrooms have flat-screen TVs.
The Cathedral Room
This stunning Cathedral Suite features vaulted ceilings and original 1700's pitched beams. The free-standing stone bathtub is a real wow factor, set beneath the exposed stone wall section. This bedroom also includes a separate ensuite & walk-in shower.
The Studio Suite

The Studio Suite occupies the entire top floor of one wing of the house, with four large roof windows, gorgeous light and stunning views towards the West. It was once an artist studio used by Noel Redding's former partner, Carol Appleby. The ensuite bathroom has the original 1700's beams, which you can admire as you soak in the bathtub!
Noel's Room


Named in honour of Noel Redding, whose bedroom this was for the thirty years he lived at Dunowen House. Noel's Room has five windows that cast light inside all day, a gorgeous garden view and a glimpse of the sea at the bottom of the lane. It also has a fab ensuite bathroom.
The Captains Room

The Captains Room is named after Captain George Sandes, who lived here at Dunowen until his death in 1876. This room has lovely sunny views into the courtyard with its old bell tower. Renovated in 2023 it now has a stunning kingsize 4-poster bed, replica Georgian window shutters, antique furniture and beautiful coastal artwork by local artists. The room has a free-standing bathtub and a Travertine marble ensuite shower-room.
The Orchard Room

The Orchard Room is ideal for anyone staying with children or if there are 3-4 guests sharing the room. It has a cosy annex with a double bed just off the main suite, giving a little extra privacy. The Orchard has a marble tiled ensuite, comfy beds and lots of natural light.
Sandes Room
Sandes Room is situated on the south side of the house, looking out across the garden towards the sea at the end of the laneway. It's bright and spacious, sleeping up to four guests in a king bed and a custom-made sofa bed. The real wow factor in this bedroom is the fully tiled glass mosaic bathroom that pops when the lights are on.
Food & Recipes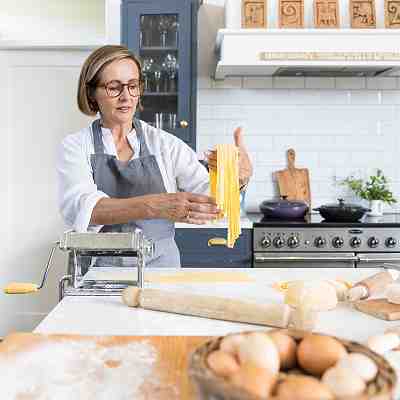 Learn the secrets of Italian Cooking New Winter Cookery Courses at Dunowen House
Latest News
Have you ever wanted to learn how to make your own fresh pasta? Uncover the secrets that make Italian food so delicious? Then…