Maps & Directions to Dunowen
By Car
Traveling from Cork take the N71 in the direction of Skibbereen. Travel for 32km until you reach the roundabout at outskirts of Clonakilty (Supervalu Supermarket will be to your right). Take 2nd exit in direction of Skibbereen, travel past Court House and Wheel Pump (at bend in road on your right) until you see Henry O'Leary Estate Agent offices on a corner (the road bends around to the right as you approach). Take left turn here at the side of Henry O'Leary's and follow signs for Galley Head / Red Strand / Ardfield. After a series of bends, travel onwards across the long straight causeway, staying right at end of the causeway and up a winding hill (DO NOT take the turn left for the Dunmore House Hotel!). At the top of this hill there is a sharp bend left in the road & you will see a signpost in front of you indicating Ardfield. Keep an eye out for Ardfield and the Mountain House Pub signs along the way.
When you reach Ardfield, you will see a yellow church on your right and the graveyard on the left. At the church there is a crossroads / junction - DO NOT turn off to the left or right, stay on the road you are on and travel straight ahead. When you reach The Mountain House pub about 500m from this junction on your right, you know you are on the correct road! (There is a sign for Dunowen House on signpost across the road in front of the pub, we are approach 2km from here).
Travel past the pub then on past the old graveyard with the high cross (on left), keep on the road, then down a hill where you will see a small stone cottage on the left hand side in the bend in the road at bottom of the hill. Travel on past this stone cottage, then shortly past old farmhouse on the left with a low wall in front and approx 100m from here you will see a turn to the left, signposted Sands Cove and Dunowen House (ours is a brown sign). Take this turn left. 500m from here the entrance to Dunowen House is first on the left. There is a stone wall entrance and high gates at the main driveway for Dunowen House. If you are staying in Orchard Cottage, take the back driveway indicated by wooden sign with Orchard Cottage on it.
OUR POSTCODE: P85 DX25
Dunowen House

,

Clonakilty

,

Co. Cork

,

Ireland

+353 23 886 9099

GPS Co-ordinates: 51.556038, -8.905305
Food & Recipes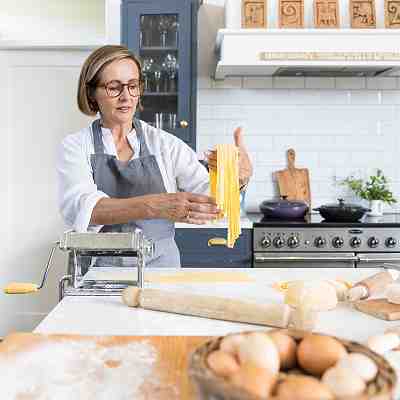 Learn the secrets of Italian Cooking New Winter Cookery Courses at Dunowen House
Latest News
Have you ever wanted to learn how to make your own fresh pasta? Uncover the secrets that make Italian food so delicious? Then…