Back to News 06 September 2022 by Kela Hodgins in Food & Recipes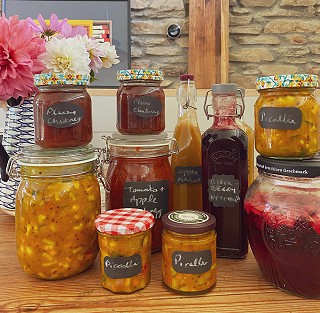 We are seeing a bumper harvest in the orchard this Summer, with the apple trees laden with the best fruit in a few years.
As someone who detests waste, it is putting me under pressure to use them in as many ways as possible. It's getting to the stage where our own kitchen permanently smells of apples, vinegar and spices as I fill as many jars with chutney and relishes that I can! It's driving the kids mad!!!
Lots of our online followers were requesting some recipes, so these are some of my favourite ways of using up the fruits.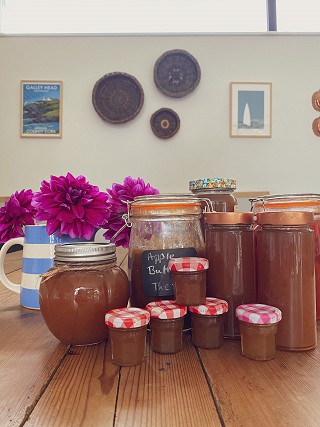 Cider Apple Butter
This is one of my favourite ways to use and store apples, turning it into a fruity and gently spiced spread that's great on hot toast, scones, pancakes or even with a cheese board.
1.5kg cooking apples
600ml dry cider
Granulated sugar (weight depends on pulp quantity)
heaped tsp ground cinnamon
heaped tsp ground cloves
The great thing about this recipe is that there is no need to peel or core the apples, the skin and pips provide pectin to help set the butter. Just wash and chop apples into quite big pieces, removing any stems that might still be attached.
Place in a large pot (I use a ham pot) and pour over the cider. Bring gently to a simmer and cook until the apples are soft. Remove from the heat.
You need to now push the apple through a sieve or a mouli into a large bowl or pot - I use a large sieve and the back of a big spoon to gently push through. You will be left with skins and pips which can be discarded. Make sure to scrape the underside of the sieve into the bowl, this is the good thick pulp you need.
Measure the pulp and for every 600ml of fruit pulp you will need 340g sugar.
Add pulp, sugar, cinnamon and cloves to the pot, stirring to dissolve the sugar. Bring gently to a boil and boil rapidly for approx 15 minutes. The pulp should be thick and creamy looking.
Pour into warm sterilised jars and seal immediately. Use within a year and once opened store in the fridge.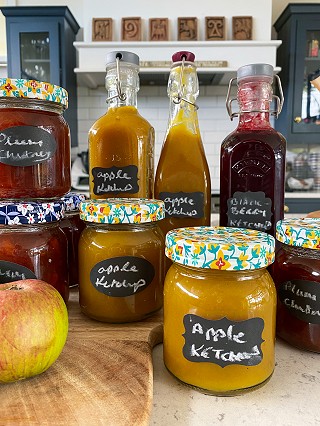 Spiced Apple Ketchup
This recipe has been in use for a long time here as it comes from a really old pickle & jam book I inherited from my Granny.
Making your own ketchup is really exciting - I've made batches of apple, blackberry and grape ketchup this year. The apple ketchup is almost like a "brown sauce" and is great with any meats, cheese or as a base for a salad dressing. It's super quick to make too.
1.8kg apples, chopped (weight after peeling and coring)
2 large onions, peeled and chopped
2 cloves garlic, chopped
420ml brown or cider vinegar
2 tsp pickling spice (you can buy this ready made)
2 tsp salt
1 tsp curry powder (I used Madras)
1/2tsp cayenne pepper
1 tsp turmeric
230g granulated sugar
Put the chopped apple, onions and garlic in a large stainless steel pot and cook with the pickling spice, vinegar and seasonings until the apples form a thick pulp.
Rub the pulp through a sieve to remove the whole spices and any fibrous core or pips.
Add the sugar to the pulp and boil rapidly for approx 15 minutes until it thickens.
Pour into hot sterilised bottle or jars and seal immediately.
Apple & Red Tomato Chutney
Another great chutney to have in the pantry for over the winter. I love having this for Christmas to add to ham & cheese sandwiches, as part of a cheeseboard or even with your cooked breakfast - it makes a delicious change from tradtional tomato ketchup on your sausages!
680g red tomatoes
680g peeled & chopped apples
225g onion, finely chopped
285g vinegar
1 tsp pickling spice, tied into a muslin bag
1 tsp salt
1 tsp ground ginger
115g dried fruit
340g granulated sugar
First skin the tomatoes by putting them in a metal bowl and pouring over boiling water. After a few minutes you will be able to removed the skins easily.
Put the onion and 100ml of the vinegar in a saucepan, simmer until nearly soft.
Chop the tomatoes then add them, the chopped apples, the muslin of pickling spice, salt, ginger, dried fruit and just enough vinegar to stop the mixture sticking to the base of the pan.
Cook gently, stirring from time to time to make sure it doesn't burn.
Add remainder of the vinegar and all the sugar to the pot then stir the sugar in to dissolve.
Boil steadily until the chutney is thick. Remove the muslin bag of spice then pour chutney into warm sterilised jars. Seal immediately.