Back to News 09 October 2023 by Kela Hodgins in Food & Recipes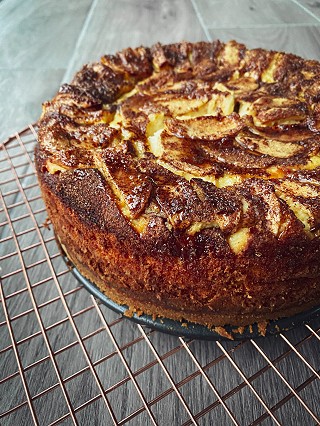 We LOVE cheesecakes here and baked versions are by far our favourite. This recipe is the very essence of Autumn, using ripe Cox's Pippins from the orchard, the warm homely scent of cinnamon and a drizzle of delicious maple syrup over the top. Just delicious!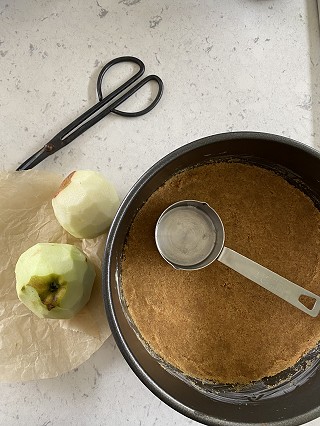 Apple, Cinnamon & Maple Syrup Baked Cheesecake
Ingredients:
Base:
220g digestive biscuits
80g melted butter
Filling:
2 Cox's or other firm dessert apple
25g butter
1 tbsp apple brandy / Calvados (you can leave out if preferred)
500g ricotta cheese
400g cream cheese (Philadelphia or similiar)
150g caster sugar
50g plain flour
5 large free range eggs, beaten
¼ tsp ground cinnamon
1 tsp vanilla extract
Topping:
1 large dessert apple, peeled & thinly sliced
25g soft brown sugar
1/4tsp cinnamon
Generous drizzle maple syrup
Method:
Preheat the oven to 180°C (fan 160°C/350°F/gas mark 4). Butter a loose-based 22cm springform cake tin, then line base with baking paper.
To make the base, blitz the digestives in a food processor, or crumb with a rolling pin, then mix in a bowl with the melted butter. Press the biscuit mix evenly into the base of the prepared tin using back of a spoon - I like to use base of a measuring cup to get an even finish (see image above).
Bake in the preheated oven for 10 minutes until the base is lightly browned and just set. Remove from the oven and allow to cool for at least 5 minutes. Reduce the temperature of the oven to 170°C (fan 150°C/325°F/ gas mark 3.
For the filling, peel and core the apples and cut in smallish cubes. Melt the butter in a small frying pan, and saute the apple cubes until they are a nice colour. Pour the brandy into the pan if using and bubble until evaporated. Leave to cool.
Place the ricotta and cream cheese in a large mixing bowl and stir it as smooth as possible with a spatula. Stir the caster sugar and sifted flour into the cheese, then mix in the beaten eggs, a little at a time. Blend in the cinnamon and vanilla, then stir in the cooked apple. Pour the mixture into the prepared cake tin.
For the topping, arrange the thinly sliced apple carefully on top then sprinkle over the mix of brown sugar and cinnamon.
Bake in the centre of the preheated oven for about 1¼ hours until the cake is a deep golden colour. Make sure the centre is quite firm and a skewer inserted in the centre comes out clean.
Drizzle over the maple syrup then cool on a wire rack. It may crack and /or sink as it cools but this is normal. Chill in fridge until ready to serve, adding a little more maple syrup to taste.