Back to News 10 July 2023 by Kela Hodgins in Food & Recipes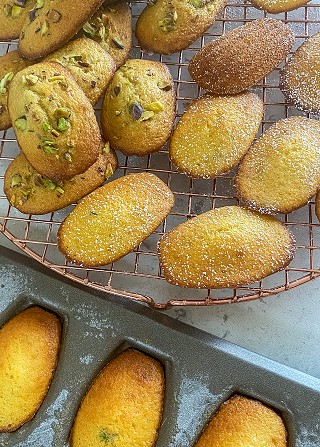 Madeleines are those scalloped sponges you see throughout traditional French bakeries. To get the correct shape, you need a madeleine tin or mould preferrably a good sturdy weight. Light, delicate and melt-in-the-mouth, these are normally eaten on the day they are made and served with tea.
TIP: To prevent the cakes from sticking, brush the tins generously with melted butter then dust with flour, tapping out the excess.
The same basic recipe can be adjusted by drizzling some with melted chocolate or as I've done here, add fresh chopped pistachios or lemon zest and fresh thyme.
Ingredients:
90g butter, plus extra for greasing the tin
2 tsp runny honey
90g plain flour, plus extra for dusting tin
40g icing sugar
1 tsp baking powder
2 free range eggs, very lightly beaten
Method:
Preheat oven to 180C or 170C fan oven. Butter and flour the madeleine as mentioned above.
Melt the remaining butter and the honey gently in a small saucepan, then leave to cool slightly while you prepare other ingredients.
Sift the flour, icing sugar and baking powder into a bowl.
Stir in the melted butter & honey mix into the flour.
Add in the eggs and stir gently until well combined.
Spoon the mixture into the prepared tins, filling each mould approx two-thirds of the way. Bake in the preheated oven for 8-10 minutes until risen and golden brown.
Leave to cool slightly before carefully removing, then cool fully on a wire rack.
Alternatives:
Pistachio: replace 25g of the icing sugar with 25g of pistachio spread or paste, mixing into the flour & sugar mix before adding in the butter & eggs. I used a pistachio spread available from Lidl. Before baking, sprinkle tops with chopped fresh, unsalted pistachios.
Lemon & Thyme: add the zest of a lemon and some fresh thyme leaves to the flour mixture. I used the leaves from 2/3 average sized sprigs.