Back to News 18 February 2018 by Kela Hodgins in Food & Recipes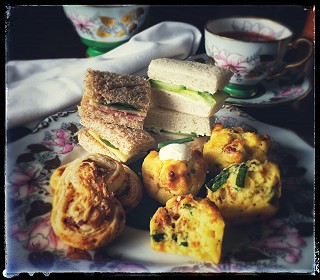 New Vintage Afternoon Tea Menu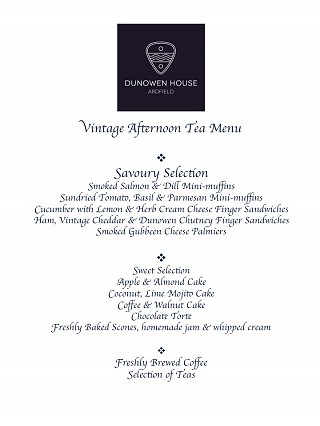 We are delighted to introduce the latest addition to our Private Catering menu for guests staying with us at Dunowen House.
As a fan of savoury rather than sweet treats, I often find Afternoon Tea can be a little disappointing. For the last few weeks I have been putting together a selection that I think is a little more enticing than the norm – I hope you agree!!
My Mum is addicted to collecting vintage tea and dinner services, so I have manged to squirrel a few off her over the years. They really are beautiful and tea tastes so much nicer from a bone china cup – raised pinky fingers optional!!
Just let us know in advance of your stay if you would like us to cater an Afternoon Tea for you.
Smoked Salmon & Dill Muffins Recipe
I got such a great reaction to a recent post about our Afternoon Tea savouries, that I'm including the recipe for Smoked Salmon Mini-Muffins. A little salmon goes a long way in this recipe, so use the very best you can find. I hate oily, slippery Smoked Salmon and find the drier cures much more appetising. I use Ummera or Union Hall brands, local to us here in West Cork.
We are lucky to have our own hens in the walled garden and I love the deep yellow colour their yolks give the muffins, nearly like saffron has been added. I also use a silicon mini-muffin tray as I prefer bite-size treats but use small or regular muffin tins if you prefer.
Ingredients
6 tbsp sunflower oil
280g / 10oz plain flour
1 tbsp baking powder
pinch salt
freshly ground black pepper
2 free range eggs
250ml / 9fl oz buttermilk
150g / 5.5 oz smoked salmon, finely chopped (plus extra for garnish)
2 tbsp chopped fresh dill (plus a few springs for garnish)
Method
Preheat oven to 200 degrees celcius / 400 F / Gas Mark 6. Grease your muffin tins.
Sift together flour, baking powder, salt & pepper into a large bowl.
Place eggs, buttermilk & oil together in a large jug or bowl & whisk until combined. Make well in centre of dry ingredients and add the milk/egg mixture, chopped smoked salmon and chopped dill. Stir gently to combine, do not over-mix.
Spoon mixture into trays & bake in preheated oven for 10 minutes for mini-muffins, 20 minutes for large muffins. They should be well risen, golden colour and firm to touch.
Leave to cool in tin for 5 mins then serve at room temp. When cool, add a little dollop of crème fraiche and sprig of dill or chive on top.