Back to News 23 August 2021 by Kela Hodgins in Food & Recipes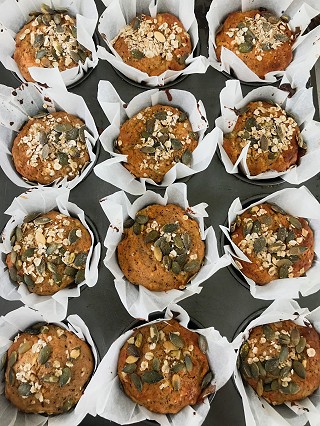 Where has the Summer gone?! Here at Dunowen our youngest starts secondary school this Friday and I can't believe it's come around so quickly. If you're panicking about lunchboxes, here's some ideas that might keep them interested and healthy over the coming weeks.
I'm including recipes here for:
Lunchbox Frittata, a really flexible recipe to use up leftover pasta, veg, cooked meats and cheese
Wholemeal Seeded Muffins, sneaking in some grated courgette with cinnamon & honey
Other ideas are the Seeded Flapjacks from our TrayBake Thursday Blog back in July 2020 and the Puffed Protein Energy Bars from a Blog post in January 2021 - just just click on the links to find them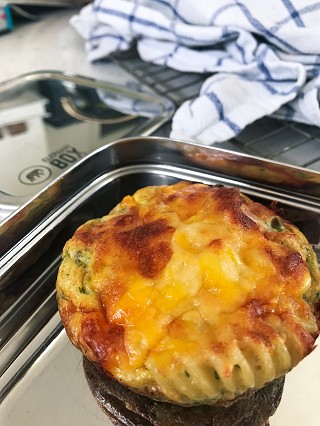 Lunchbox Frittatas
These tasty Frittata make a great alternative to sandwiches and super way to use up leftover pasta, ham, cheese and mixed veg from the fridge. Make them the night before and pop them in the lunchbox in the mornings, they are great eaten warm or cold.
Ingredients:
4 large free range eggs
2 tbsp double cream
1 heaped tbsp pesto (homemade or shop bought)
Salt & pepper to taste
100g cold leftover pasta - penne, fussili and chopped up spaghetti all work well
100g mixed cold meats & veg - ham, chicken, chorizo, peppers, corn, peas all work well.
Grated cheese to top
Method:
Lightly grease a 6 hole muffin pan with butter or oil. Preheat the oven to 190C / 180C fan
Beat the eggs, pesto, cream, salt & pepper together in a large bowl.
Add in the cooked pasta and whatever meat / veg you are using. Stir to combine then divide across the muffin tins. Top with the grated cheese.
Bake in the preheated oven for 12-15 mins until just set and golden on top. Leave in tin for a couple of minutes before removing. These can be eaten warm or cold.
Wholemeal Seed & Courgette Muffins
These light and fluffy muffins are packed with healthy ingredients the kids won't even notice! They keep well a sealed container in the fridge for the week or freeze perfectly too.
Ingredients:
225g wholemeal flour
1 tbsp baking powder
Good pinch salt
1 tsp ground cinnamon
175ml buttermilk
2 large free range eggs, lightly beaten
4 tbsp sunflower or vegetable oil
4 generous tbsp runny honey
125g grated courgette
Pumpkin seeds and rolled oats to top
Method:
Preheat the oven to 180C / 170C fan and line a 12 hole muffin pan with papers.
Sift the flour, baking powder, salt and cinnamon into a large bowl. Tip whatever bran or seeds left from the flour in from the seive into the bowl.
Mix the milk, eggs, oil, honey and grated courgette together in another bowl then tip into the dry ingredients.
Stir together to mix thoroughly but don't overmix.
Divide evenly between the muffin papers and top with a mix of the seeds and oats.
Bake in the preheated oven for 25 minutes until risen and golden. Leave to cool on a wire rack before serving.