Back to News 04 January 2021 by Kela Hodgins in Food & Recipes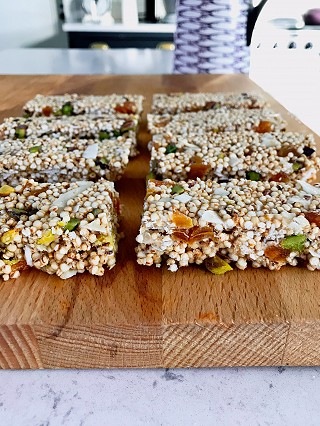 Cake Monday is back for the first time in 2021 – woohoo!
I'm all for fresh starts and New Year's resolutions but that doesn't mean hair-shirts and total denial.
This year is tough enough already and we're only a few days into it!
I was inspired by a recipe from New Zealand cook, Emma Galloway, whose book "My Darling Lemon Thyme" I really recommend – lots of great vegetarian and vegan recipes in it.
I made these plant based energy bars using super healthy puffed Quinoa (you can use puffed millet too), mixed with an assortment of dried fruit and nuts. Use whatever is your favourite or left over from Christmas baking. They have a lovely chewy texture and are packed with protein, so they definitely fill that snack gap.
I made two versions, the first with chopped hazlenuts & figs, but we all decided the one with pistachios, apricots and coconut was our favourite. Let me know how you get on & the combos that work for you.
Happy New Year,
Kela x
Puffed Protein Energy Bars
Ingredients:
75g puffed Quinoa or puffed Millet (you can find these in health food shops or healthy aisle of your supermarket
60g dried fruit, chopped (cranberries, apricots, figs…you decide)
30g chopped nuts (toasted almonds, hazlenuts, coconut and pistachios all great)
125ml brown rice syrup or 80ml honey (if you're not choosing the vegan option)
125ml light tahini
3 tblsp coconut oil
1 tsp vanilla extract
1. Combine the puffed grain, nuts and fruit together in a bowl…mix well.
2. Pour the tahini, honey/syrup, coconut oil and pinch of salt into a small pot. Heat gently until it starts to boil, stirring constantly so it doesn't stick. Allow to boil for approx 30 seconds then remove from the heat. Add the vanilla extract and stir again.
3. Quickly add the liquid mixture to the dry mix and stir to combine. Pour the mix into a small brownie or roasting tin, already lined with baking parchment.
4. Press the mix down into the tin then smooth over with a spatula. When cooled a little, pop into the fridge for at least an hour until fully chilled. Cut into squares or bars – these will keep in an airtight container in the fridge for up to a week.