Back to News 02 August 2021 by Kela Hodgins in Food & Recipes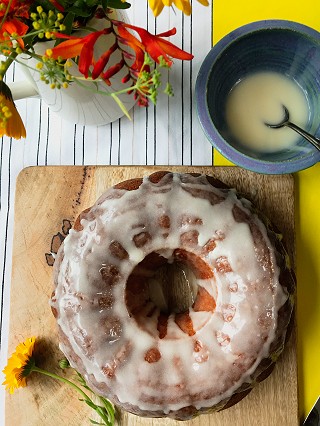 It's Bank Holiday Monday and I had lots of plans for outdoors but the weather turned and rain is on the way.
We need a little cheering up!! If you're looking for something light and zesty that's super easy to make yet feels like Summer, then this Zesty Lemon Bundt Cake is perfect. The sponge is so light and airy and the addition of a layer of lemon curd in the middle of the batter before baking makes it feel extra special and a little rich.
The yoghurt and lemon icing is drizzled over the top while the cake is a little warm. Eat as is or serve with some berries and extra Greek yoghurt on the side. Yum!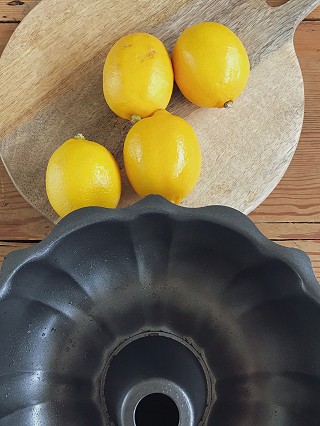 Ingredients:
250g butter, room temperature
300g caster sugar
Finely grated zest of 2 lemons
4 large free range eggs
100ml double cream
100ml lemon juice
440g self-raising flour
1 tsp baking powder
Lemon curd
Icing:
200g icing sugar
2 tbsp natural yoghurt
1 tbsp lemon curd
Method:
Preheat oven to 170C / 160C fan. Lightly oil a Bundt tin or other large circular tin if you don't have one.
In a large bowl cream together with a mixer the butter, sugar and lemon zest until light and fluffy (approx 5 mins).
Add the eggs one at a time, beating well between each addition.
Mix together the cream and lemon juice in a jug then gently add to the batter. Use a large metal spoon or spatula to gently combine.
Sift in the flour and baking powder and fold this gently into the mix until well combined. It will be quite a stiff batter.
Spoon half into the prepared tin then add a layer of the lemon curd. Gently spread this over the batter with the back of a metal spoon. Add the remaining batter to the top, level and smooth to the edges.
Bake on the middle shelf of the preheated over for 50-55 mins until golden and a skewer inserted into the middle comes out clean. Allow to cool in the tin for 10 minutes before carefully tipping out onto a wire rack.
Make the icing by combining the 3 ingredients and mixing well to remove any lumps. Spoon this over the cake and leave to set before serving.