Back to News 10 May 2021 by Kela Hodgins in Food & Recipes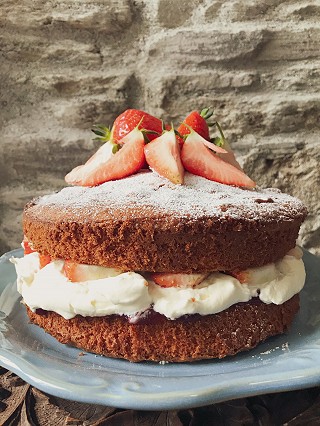 Opening that first punnet of locally grown strawberries is the start of Summer for me. There is absolutely no comparison to the unseasonal strawberries with all the air-miles that you find throughout the year. The smell alone of a new season Irish strawberry is amazing - I am known to eat a whole punnet in the car before I even get them home!
These deserve a special cake all to themselves and a Victoria Sponge is one of my favourite ways to use them. Some people are afraid to make a sponge cake but using my super easy "all in one bowl" recipe you will realise that it can be one of the quickest and easiest cakes to make. Fill with whatever jam, fruit, fresh cream or buttercream you fancy, then dust with icing sugar for a real afternoon tea show-stopper.
Victoria Sponge
My method of mixing all the sponge ingredients in one go really does work!
Ingredients:
200g self-raising flour, sifted
1 tsp baking powder, sifted
200g caster sugar
200g soft butter or baking margarine, like Stork
4 large free range eggs, lightly beaten with a fork
1 tsp vanilla extract
Method:
Preheat oven to 180C, 170C fan or Gas Mark 4. Grease and line the base of two 20cm sandwich tins.
Tip all the sponge ingredients into a large bowl and using a free-standing or hand held mixer, beat together for approx 2 mins until the batter is smooth.
Divide the mixture between the two tins, leveling the mix with a spatula or palette knife. Bake on the middle shelf for 20-25 minutes until golden, well-risen and springy to touch.
Leave to cool in the tins on a wire rack for 5 minutes before carefully turning out onto the rack to cool completely. Do not leave the sponges with the tops facing downwards onto the rack or else you will be left with a criss-cross pattern on the sponge.
Whip cream and add some icing sugar to taste. A tablespoon of icing sugar will also stabilise and make the cream a little firmer. The cream should form peaks but beat on a low speed so it doesn't turn to butter!
Spread the bottom layer of sponge with homemade or best quality strawberry jam, then a layer of cream followed by slices of strawberries. You can spread jam on top layer too of you like, before placing it on the base layer.
Dust the top with icing sugar and decorate with whole or cut strawberries, depending on size and your preference. Serve with a lovely cup of tea, from your best china if possible!