Back to News 02 November 2020 by Kela Hodgins in Food & Recipes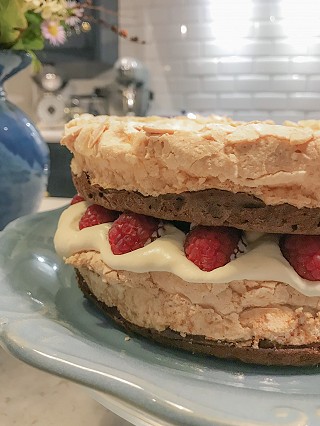 The combination of a rich chocolate sponge baked together with a crisp, light meringue makes this layer cake a little special. Fill it with whipped cream and fresh raspberries for a dessert cake fit for any celebration.
When assembled it looks dramatic with four layers visible.
We made this for our own little Halloween celebration at the weekend and it was polished off in a flash!
Hope you enjoy baking it yourselves x
Chocolate & Meringue Layer Cake
Sponge Ingredients:
110g caster sugar
125g butter, softened
3 free range eggs, separated
150g self-raising flour
35g good quality cocoa powder
125ml buttermilk
120g sour cream
Meringue Ingredients:
150g caster sugar
2 tblsp flaked almonds
Double cream, icing sugar & fresh raspberries to fill
1. Preheat oven to 160C fan or 170C regular. Grease & line two 22cm cake tins – use deep pans if you can as the meringue rises as it cooks.
2. Using a hand-mixer, beat the butter, sugar & egg yolks in a large bowl until light and fluffy. Sift in the flour & cocoa and stir together gently with a wooden spoon. Then add the buttermilk and sourcream to the mix and continue to combine with the wooden spoon or spatula until all the ingredients are smooth.
3. Divide the chocolate mix evenly between the two tins.
4. In a clean bowl whisk the remaining egg whites until they become fluffy & are at soft peak stage. Add the caster sugar one tablespoon at a time, whisking well between each addition.
5. Divide the meringue mix and spread evenly over the chocolate mix in the tins. Sprinkle the almonds over one layer only, leaving the other tin free of a nutty topping (see image below).


6. Bake the cakes for 10 minutes then cover the top of the cakes loosely with some tin foil to prevent burning. Cook for a further 15-20 minutes. Remove from oven and allow to sit in the tins for approx 5 minutes before turning out. Allow to cool fully, meringue layer uppermost, before you assemble.
7. Whip the cream with some icing sugar (if desired) then spread across the bottom layer of the cake. Add the raspberries then top with the cake layer, making sure to put the almond sprinkled one topmost. Dust again with icing sugar and serve.