Back to News 31 January 2022 by Kela Hodgins in Food & Recipes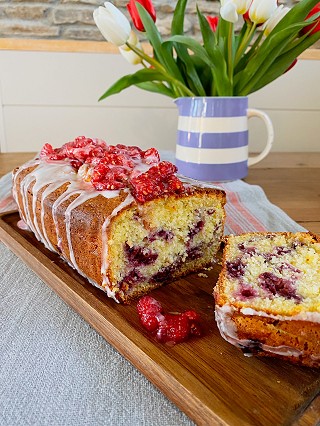 For all of you that love our Lemon Drizzle cake, you're going to really love this Zesty Raspberry Buttermilk Cake. It has all the lemony loveliness of Drizzle Cake but studded inside with juicy raspberries and topped off with a lemon icing combined with fresh crushed raspberries.
If you want to keep the cake for longer, leave off the fresh raspberries from the top and just add the icing. However, if you're like us and cake gets demolished instantly, leave the fresh raspberries in.
I used a combination of fresh and frozen raspberries in this. The frozen were tossed in flour before adding to the batter and the fresh were kept for decorating. You don't need to defrost the berries either.
Ingredients:
225g Caster Sugar
125g butter at room temperature
1/2 tsp vanilla extract
Finely grated zest of one large lemon
2 large free range eggs, room temperature
300g plain flour
2 tsp baking powder
120ml buttermilk
200g raspberries, fresh or frozen
Icing:
150g icing sugar
2 tblsp lemon juice
Some fresh raspberries for decorating
Method:
Preheat oven to 180C. Grease and line a 22cm x 12cm loaf tin - I use the loaf liners (see image below).
Using an electric whisk or stand mixer, beat the butter and sugar together until light and fluffy (3-4 minutes). Add the vanilla & zest and beat again. Add the eggs one at a time, beating well between each addition.
Sift the flour and baking powder together and gradually fold into the mix, alternating the flour with the buttermilk until combined.
Toss the raspberries to be used in the mix in a tablespoon of flour. Put 1/3 of the batter on the base of the prepared tin, then add a layer of raspberries, top with another 1/3 of batter then another layer of raspberries. Spread the final 1/3 of the batter evenly across the top then bake in the preheated oven for 1 hour - 1 hour & 15 mins. Test after 1 hour by inserting a skewer into centre. If the skewer comes out clean remove cake from the oven to a wire rack to cool before removing from the tin to fully cool.
To decorate, mix the sifted icing sugar with the lemon juice to form a smooth icing. Drizzle most of this over the top of the cooled cake, keeping some to mix the fresh raspberries with. Mush them up slightly in the icing before adding to the top of the cake. Leave to set in the fridge before serving.