Back to News 07 August 2021 by Kela Hodgins in Food & Recipes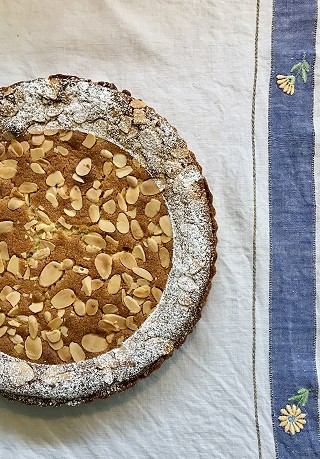 Bakewell Tart
Forget every commercial Bakewell you've ever tried, cheapened with strong almond flavours and oily fillings. When done properly, using quality ingredients, Bakewell Tart is sublime. Make it this weekend and let me know what you think.
Pastry:
180g flour
2tbsp icing sugar
100g very cold butter, cut into cubes
1 egg lightly beaten
Filling:
Good quality high fruit content raspberry or strawberry jam (homemade if you have it)
200g ground almonds
200g caster sugar
200g butter, room temperature
2 large eggs
2 drops almond essence
Flaked almonds
Icing sugar to decorate
23cm fluted loose bottom quiche / tart tin
Method:
Preheat oven 180C fan, Gas 6. Butter the tart tin.
I use a food processor for the pastry as the less hand contact the better the finish. Put the flour, icing sugar & butter in food processor and blitz until combined. Carefully add the beaten egg until the mix just comes together. Empty contents onto a floured worktop and gently knead for a few seconds. Wrap in clingfilm and chill in fridge for at least 1 hour.
When chilled, remove and roll out, then line the prepared tin. Place sheet of baking parchment over pastry and fill with baking beans or dried pulses. Bake in preheated oven for 15 mins then carefully remove the paper & beans, baking for a further 5-10 Minutes until base is light in colour but crisp.
Spread a good layer of the jam over the base of the prepared pastry case.
To make the Bakewell filling, put the sugar, ground almonds and butter in a bowl. Beat together until light & fluffy (use an electric mixer or wooden spoon, whatever you prefer). Add the eggs one at a time, beating in well then finally add the almond essence and combine.
Spread the filling over the jam in the pastry case and sprinkle the flaked almonds over the top.
Return tart to preheated oven and bake for a further 30-35 minutes until golden and springy.
Cool slightly before dusting with icing sugar and serve with whipped cream or creme fraiche.