Back to News 14 June 2021 by Kela Hodgins in Food & Recipes
The weather is so beautiful it seemed a waste to spend it indoors baking today. I was looking for something really quick and easy, light and fruity. With a punnet of fresh blueberries in the fridge, I decided to play around with the classic Dunowen Apple Cake recipe - the result is this delicious moist blueberry filled sponge base, topped with a chunky walnut and cinnamon crumble. The mix of texture and taste is really fab…if you love our apple cake, I think you're going to love this too.
It's basically the same sponge mix as the apple cake, studded with blueberries then halfway through cooking I add the crumble top. All you need is a bowl, wooden spoon / spatula and a 20cm loose bottom cake tin. Eat warm or cool, with a big dollop of Greek yoghurt and extra fesh blueberries.
Hope you enjoy baking it, Kela x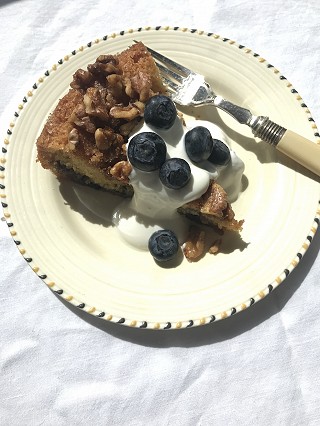 Blueberry Crumble Cake
Ingredients:
220g caster sugar
110g ground almonds
110g self-raising flour
1 tsp baking powder
3 free range eggs, lightly beaten
140g melted butter
250g fresh blueberries
Crumble Topping:
60g roughly chopped walnuts
3 tbsp demerara sugar
1/2tsp ground cinnamon
80g butter, cut into small cubes
Method:
Preheat the oven to 160C or 140C fan. Butter the base & sides of a 20cm springform or loose bottom tin then line the base with parchment paper.
Sift flour & baking powder into large bowl, then mix in the sugar & ground almonds.
Make a well in the centre and add the melted butter and beaten eggs. Mix with a wooden spoon or spatula until combined.
Pour all the sponge batter into the tin and stud the top with fresh blueberries. Bake in the preheated oven for 25 mins until the top is golden and middle is starting to set.
While the cake is in the oven for that first 25 minutes, make the topping by mixing the ingredients together in a bowl. Remove the cake carefully, sprinkle the crumble topping over the half-baked cake then return to the oven for a further 25 minutes to bake completely.
When cake is baked, take out of the oven and allow to cool slightly before removing the sides of the tin. Serve warm or cold, if you can wait that long!