Back to News 13 July 2020 by Kela Hodgins in Food & Recipes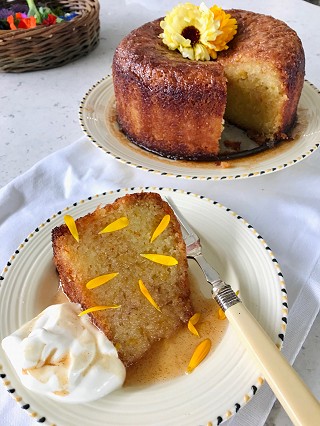 At this time of year the borders of the walled garden are filled with flowers and vegetables. While the I use a lot of the flowers for arrangements in the house, many of the blooms can be added to sweet and savoury dishes to make them look and taste a little special.
In this recipe post, I show you how to use a selection of flowers including marigolds, nasturtiums, chives, borage and pea tops to create two recipes that are ideal for al fresco eating and picnics.
Orange & Marigold Flourless Cake
This is a fantastic moist cake that is also gluten free…so a great recipe to have in your repertoire when you need to bake for someone with food allergies or intolerances.
Adding the chopped petals from the heads of two marigolds adds a depth of colour and interest to the cake…keep a few blooms to decorate the top too!
400ml sunflower oil
350g ground almonds
350g caster sugar
3tsp gluten free baking powder
8 eggs
finely grated zest 1 lemon & 2 oranges
Chopped petals removed from 2 marigold flowers
Syrup
Juice of the lemon & 2 oranges from above
100g caster sugar
2 tsp ground cinnamon
3 whole cloves
1. Preheat oven to 180C (fan 160C). Grease & line a 20cm cake tin with baking parchment.
2. In a large mixing bowl add the ground almonds, sugar & sieved baking powder. Mix until well combined.
3. In another bowl break in the eggs then add the sunflower oil. Mix together until gently beaten.
4. Add the egg mixture to the almond mixture and mix lightly. Add the zest from the lemon & oranges plus the chopped marigold petals. Fold until everything is well combined.
5. Spoon the mixture into the prepared tin and bake in centre of preheated oven for an hour. If the cake starts to brown too much after 20 minutes, place a piece of parchment top to slow down the browning.
6. While cake in the oven make the syrup by placing the juice, caster sugar, cinnamon & cloves in a small pan. Gently bring to boil then simmer for approx 3-5 mins until the syrup thickens slightly.
7. When ready, remove cake from oven and allow to cool in the tin for 15 minutes. Remove carefully from tin onto a serving plate then pierce the top of the cake with a skewer. Drizzle the syrup over the cake allowing it to soak through. Keep any remaining syrup to serve with the cake. This cake is excellent served with a dollop of Greek yoghurt.
Summer Savoury Tart
This tart uses a mix of seasonal fresh vegetables, herbs, a salty feta style cheese and a creamy egg filling. Top it with a selection of flowers, such as chive flowers and borage and serve with a fresh garden salad.
Great to bring on a picnic!
Pastry Base:
300g plain white flour
150g salted butter
100ml ice cold water
1/2 tsp salt
1. Make pastry first by adding flour, cubes of the butter and salt to a food processor. Blitz until everything is combined and the mix resembles breadcrumbs.
2. Slowly add the iced water through the top of the lid until the mix just comes together. Tip onto a cold surface and bring the mix together, kneading briefly into a ball. Wrap in clingfilm then chill in the fridge for at least 1 hour before using.
3. Roll out dough to fit a round (28cm) or similarly rectangular fluted quiche tin. Chill dough in the tin for at least another hour or even overnight.
4. Preheat the oven to 180C and blind-bake the pastry case for 15 minutes until it starts to go golden. Remove from oven, ready to add fillings.
5. For this tart I used 1 medium courgette (yellow) diced, a few handfuls of freshly podded broad beans (you could use frozen beans or even peas instead). Also added to the mix were 4 spring onions sliced, a handful of chopped fresh chives and some chive flowers. Over this crumble a block of Feta cheese…in this recipe I used a pack of Macroom Buffalo Greek Style Cheese (see image below).
6. In a jug or bowl whisk 3 large eggs, 150ml cream and 150ml while milk and a good grind of black pepper.
7. Pour this egg & cream mix over the filling in the pastry case then place the tart back in the oven. Bake for 20 – 25 minutes until the filling looks golden and is set.
8. Remove from the oven, cool slightly then sprinkle some more flowers over the top before serving. Borage and chive flowers look great against the colour of this tart filling.
9. Serve with salad and use the nasturium flowers and baby leaves, any pea or broad bean shoots and a good scattering of herbs.