Back to News 07 September 2019 by Kela Hodgins in Gardening, Food & Recipes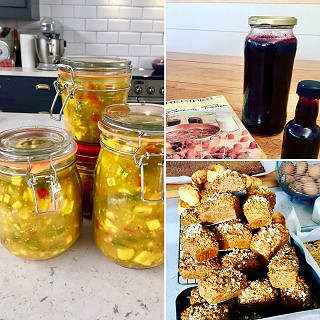 Harvest Time Recipes
The 1st of September is a real trigger to get started on harvesting the walled garden and hedgerows here at Dunowen House, stocking up on relishes, jams & pickles that will see us through those lean winter months.
Having posted some recent pictures of things we are currently making, we've had quite a few requests to share the recipes. As a starter, here's a few that have worked out brilliantly – easy to make and definitely items you would hardly ever find on the shelves of your regular supermarket.
You can use grapes or blackberries to make the ketchup…. guaranteed to give the red stuff a run for it's money!!!
I've also had requests for our brown bread. After trying so many recipes over the years, I'm sticking with the one from my good friend Diana Dodog – if it's good enough for a MasterChef winner, it's good enough for me ☺
Keep an eye out for miniature bread tins, which you can buy online or in good cookshops. The cute little loaves are great for entertaining and perfect for school lunch boxes. This brown bread is fab with some farmhouse cheese and either the ketchup or Piccalili below.
Grape or Blackberry Ketchup
3lb / 1.4kg Fruit (blackberries or black grapes)
½ Pint / 275 ml water
Sugar
Spiced Vinegar
Salt
1. Firstly make the spiced vinegar by boiling 1 pint / 550ml vinegar with a level tablespoon of pickling spice for approx. 15 minutes. Strain to remove spices.
2. Simmer the fruit in water until tender.
3. Rub cooked fruit through a sieve very firmly, leaving if possible only pips behind.
4. To each pint / 550ml puree, add 2 oz / 30g of sugar if using blackberries or 4oz / 60g sugar if using grapes.
5. Add ½ pint / 275ml spiced vinegar to each pint of puree.
6. Simmer steadily until quite think, then pour into sterilised & heated bottles or jars.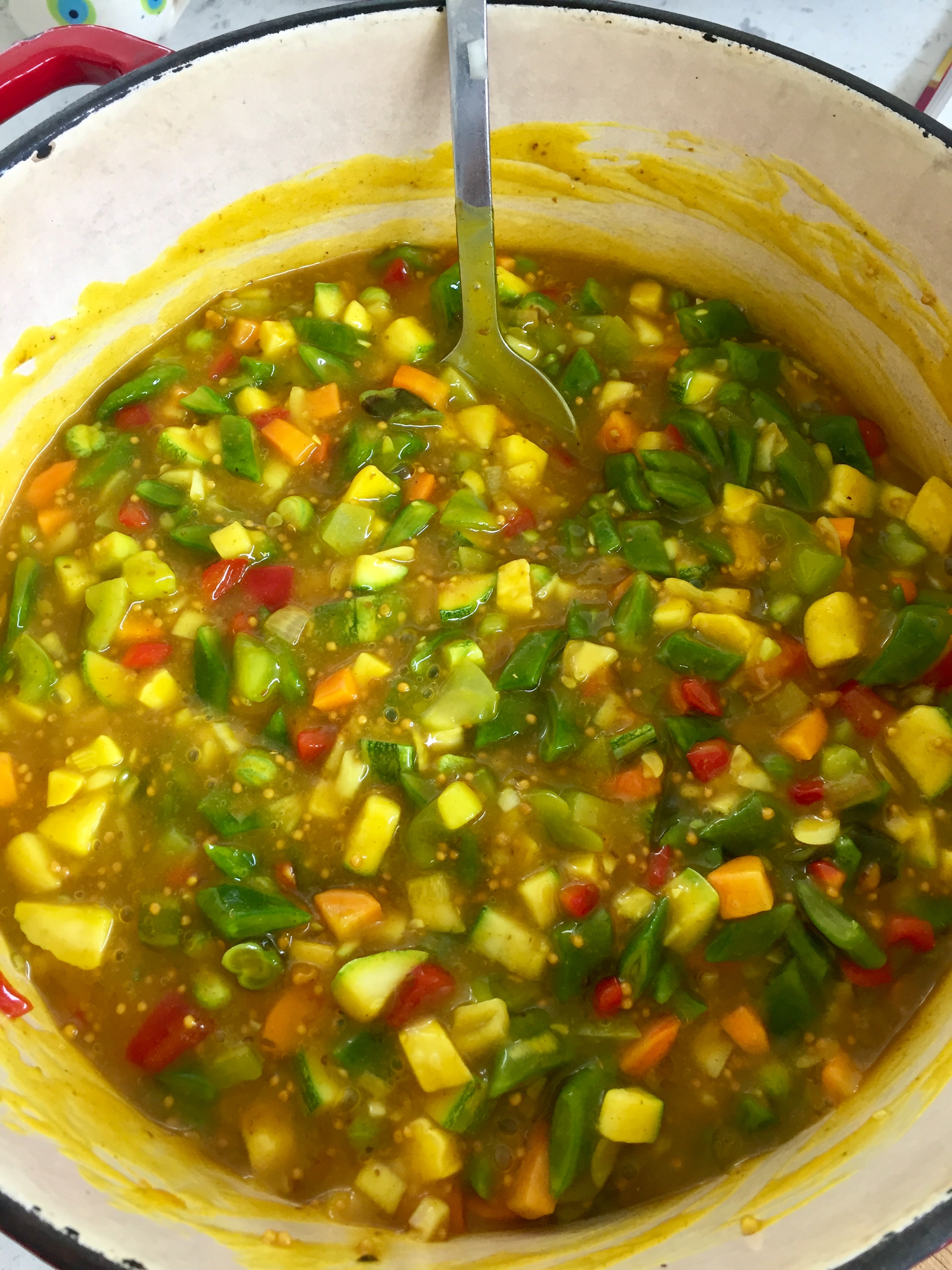 Piccalilli
1kg washed & peeled mixed vegetables – try to use 5 or 6 different types, such as cauliflower, green beans, courgettes, green / yellow tomatoes, carrots, onions, nasturtium seed pods, peppers.
50g fine salt
30g cornflour
10g ground turmeric
10g English mustard powder
15g yellow mustard seeds
1tsp crushed cumin seeds
1tsp crushed coriander seeds
600ml cider vinegar
150g granulated sugar
50g runny honey
1. Cut the mixed veg into bite-sized pieces & place in a large bowl. Sprinkle with the salt, mix well and cover with a clean tea-towel. Leave in the fridge for 24 hours, then rinse really well with cold water & drain thoroughly.
2. Put the cornflower, turmeric, mustard powder, mustard seeds, cumin & coriander in a bowl. Add a little of the vinegar & blend until you have a smooth paste.
3. Put rest of the vinegar with the sugar & honey in a large saucepan and bring to the boil. Pour a little of the hot vinegar mix over the spice paste, stir really well then add back into the saucepan. Bring gently to the boil, stirring all the time until it thickens. Boil for 3-4 minutes to allow the spices develop.
4. Remove sauce from the heat then carefully fold in the drained salted veg. Pour into sterilised jar, packing down to release air bubbles.
5. Leave for 4-6 weeks to mature before opening.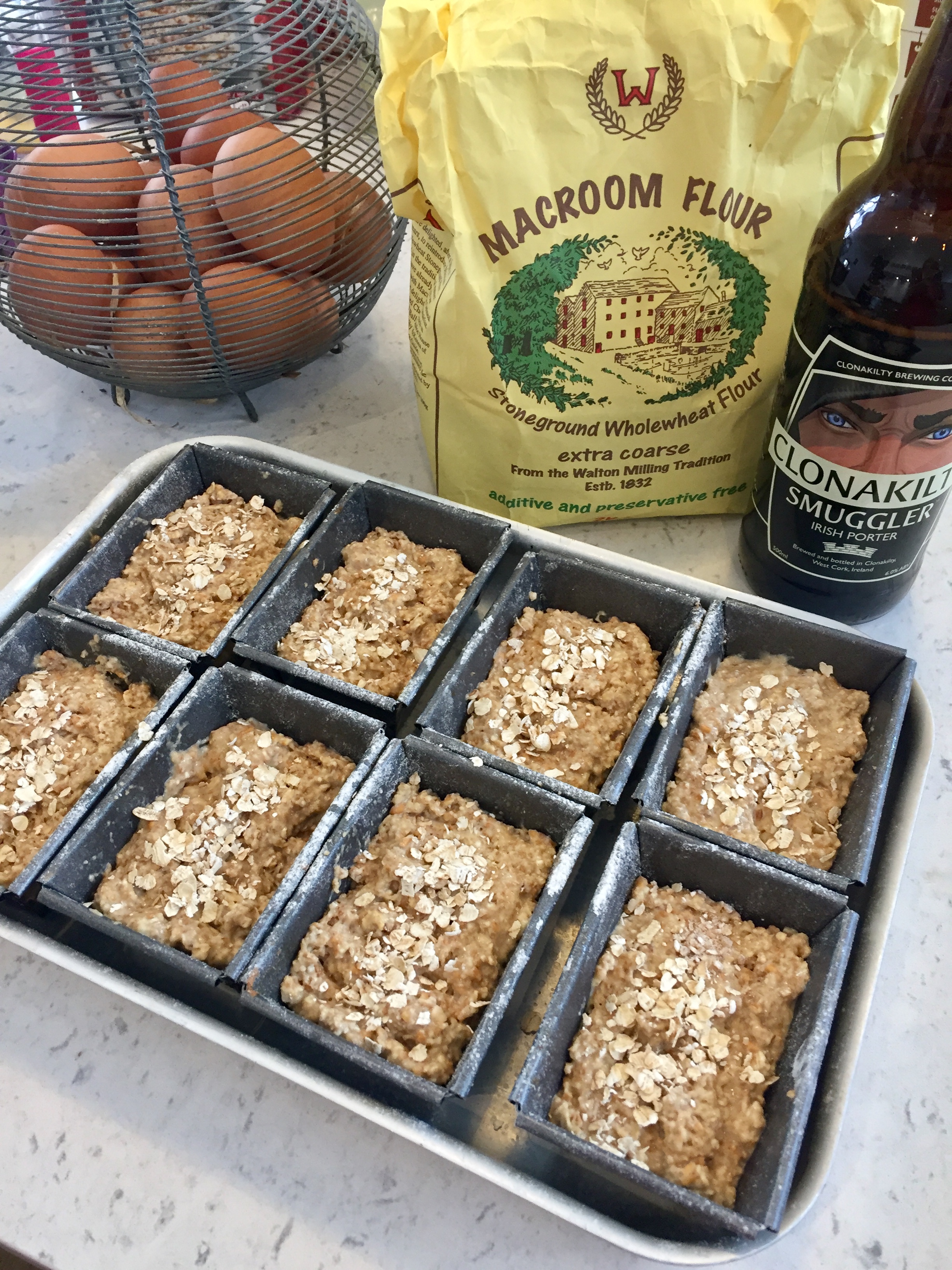 Brown Bread
340g wholemeal stoneground flour (I like to used Macroom flour)
340g plain white flour
45g butter
2 tsp baking soda
2 tsp salt
1tsp ground pepper
2tbsp soft brown sugar
625ml buttermilk
1. Preheat oven to 200 degrees C. Oil & lightly dust your loaf tins with flour.
2. Mix all the dry ingredients in a large bowl & rub in the butter.
3. Add in the buttermilk – combine but don't overmix.
4. Pour into tins & sprinkle with seeds or jumbo oat flakes.
5. Bake for 30 – 50 mins depending on tins you use. You will know if cooked when the loaf pops out of the tin easily, is well coloured all over and sounds hollow when tapped.