Back to News 02 August 2022 by Kela Hodgins in Food & Recipes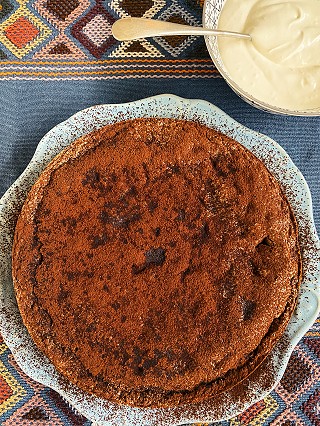 Are you a Chocolate Orange Fan? Even if you're not, this recipe will convert everyone!! This decadent gooey chocolate cake is the furthest thing from those commercial chocolate orange treats (which I absolutely detest!!). This cake was inspired by the fab Butlers Chocolate Cookbook.
The cake is flourless but uses blitzed up Amaretti biscuits instead. Combining it with almond extract, really good quality orange chocolate (Butlers or Lidl have bars with high cocoa content), orange zest and chopped almonds makes this cake a really delicious dinner party dessert.
Save some for the day after and the cake becomes denser, like a gorgeous brownie….perfect cut into slivers to go with your cup of coffee.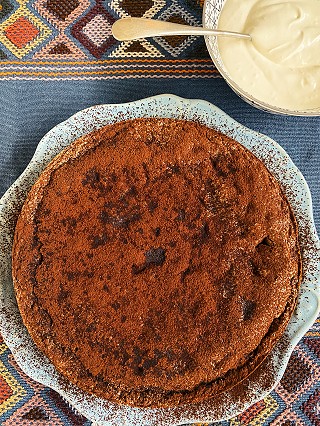 Ingredients:
150g dark orange chocolate (min 70% cocoa)
175g caster sugar
100g flaked or whole blanched almonds
50g amaretti biscuits
zest of an orange
100g butter, room temperature
4 large free range eggs
1 tsp natural almond extract
cocoa powder for dusting
Method:
Preheat oven to 180 C regular, 170C fan. Grease the bottom and sides of a 20cm springform cake tin, then line the base with baking parchment.
Place a heatproof bowl over a pot of gently simmering water, add chocolate and stir until melted. Remove and set aside.
Blitz the sugar, almonds and amaretti biscuits in a food processor until it resembles fine bread crumbs.
In a seperate bowl, beat together the eggs, butter, orbage zest and extract for approx 2 minutes. Tip in the crumb mix into the egg mix and gently combine by hand using a metal spoon or spatula. Add the melted chocolate and mix again until just combined - do not overmix.
Tip into the prepared tin and bake in the centre of the oven for approx 25 minutes. The centre will be a little gooey but the edges harder, a bit like a brownie.
Remove to a wire rack, leave to cool in tin for 10-15 minutes before removing to cool further.
Serve with whipped cream - can be eaten warm or cold the following day.