Back to News 16 May 2022 by Kela Hodgins in Food & Recipes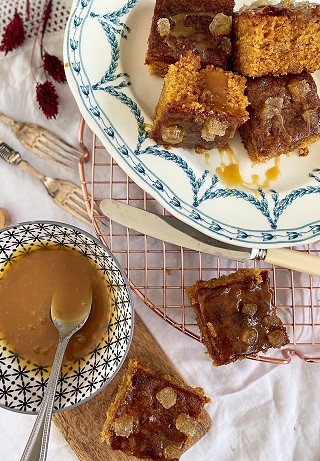 I'm a huge fan of Sticky Toffee Pudding, always searching for the ultimate recipe or trying it when I see it on a menu. I love our Sticky Toffee Pudding Cake recipe (which you can find a few pages back on our Blog) but I think this could possibly be even better!!
This soft and light golden syrup sponge includes subtle pieces of crystallised ginger in the mix, then the cake is drenched with homemade salted caramel sauce as it cools in the tin. Once cool, I sprinkle over with more ginger, the slight spiciness cuts through the sweetness of the cake.
The recipe for the salted caramel sauce has enough leftovers to drizzle over the slices of cake as you serve it with some whipped cream.
I dare you to try eat only one slice!!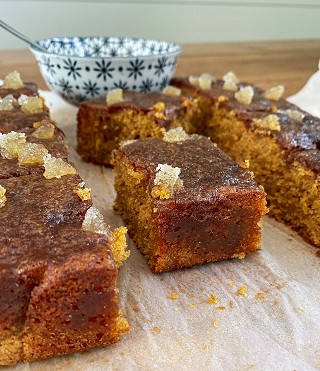 Salted Caramel & Ginger Cake
Salted Caramel Ingredients:
100g butter
150g soft light brown sugar
100ml double cream
1 tsp vanilla extract
1/2tsp sea salt flakes
Cake Ingredients:
175g butter, room temp
125g soft light brown sugar
75g golden syrup
200g self-raising flour
3 large free range eggs
2 tblsp chopped crystallised ginger or ginger in syrup (plus extra for decorating)
Quantity of Salted Caramel sauce above
Method:
First make the Salted Caramel Sauce by heating all the ingredients together gently in a small saucepan, stirring to make sure the butter is melted and the sugar is dissolved. Allow to simmer gently for one minute then turn off heat. This can be made ahead of time and store in the fridge until you need it. It's also great drizzled over icecream or in trifles.
Preheat oven to 160C fan / 180 C regular and line a 25cm x 25cm square cake tin with baking parchment.
Add the butter, sugar, golden syrup, flour, eggs and 100ml of the salted caramel sauce in your stand mixer or a large bowl and beat until well combined and no lumps. Stir in the chopped ginger.
Smooth the mixture into the prepared tin then bake in the oven for 25-30 minutes until it is golden brown and a skewer inserted comes out clean. Remove to a wire rack and pierce the top all over with a skewer. While the cake is still warm, drizzle the remaining salted caramel over the top of the cake then leave to cool completely in the tin. When cool, remove and cut into 16 squares.
To serve decorate with any remaining chopped ginger and drizzle with a little salted caramel sauce and some cream.