Back to News 02 May 2022 by Kela Hodgins in Food & Recipes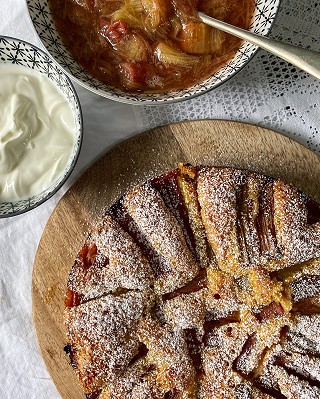 There's been quite a few chocolate cake posts recently but you might be surprised to hear that I'm not really a huge chocolate fan! Instead I love fruity, zesty cakes and tarts out of the oven filled with seasonal fruit.
I think rhubarb has to be a favourite seasonal treat for me - it just reminds me of growing up and how our neighbours all seemed to have monster rhubarb patches. Our next door neighbour would regularly throw a big bunch of stalks over the wall to be turned into stewed rhubarb (served wth custard always!) or delicious rhubarb tarts. I have a weird addiction to stewed rhubarb on brown bread for breakfast - I think I take after my Dad who loved it too.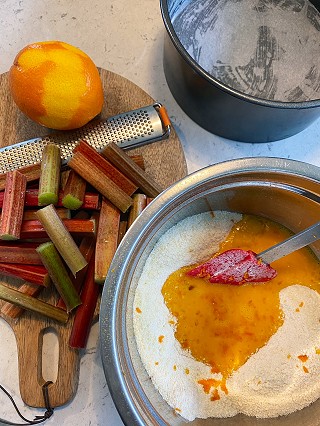 This Monday's cake is a really delicious combination, based on similar ingredients and the simplicity of our Dunowen Apple Cake. I've just added in the grated zest of an orange and layered the sliced rhubarb on top instead of in the middle of the sponge.
A good dusting of brown sugar before it goes into the oven, gives the fruit a lovely caramelised finish when baked.
I like to serve this with some Greek Yoghurt or cream and a spoonful of rhubarb compote. I make the compote by gently poaching rhubarb in the juice of the orange we zested then adding in enough sugar to taste.
It's good enough to have for dessert and breakfast!! YUM
Rhubarb, Almond & Orange Cake
Ingredients:
220g caster sugar
110g ground almonds
110g self-raising flour
1 tsp baking powder
3 free range eggs, lightly beaten
140g melted butter
Grated zest of one orange
Bunch rhubarb (approx 6-8 stalks), chopped
Brown sugar for sprinkling
Method:
Preheat the oven to 160C or 140C fan. Butter the base & sides of a 20cm springform or loose bottom tin then line the base with parchment paper.
Sift flour & baking powder into large bowl, then mix in the sugar & ground almonds.
Make a well in the centre and add the melted butter, beaten eggs and grated zest. Mix with a wooden spoon or spatula until combined.
Spread the mix into the base of the tin, then top with the rhubarb pieces (see image above). Sprinkle the top with brown / demerara sugar.
Pop the cake in the oven for 50-55 minutes until golden brown & a skewer inserted into the middle comes out clean.
Dust with icing sugar and serve warm with cream, greek yoghurt or custard. It's also lovely eaten cold the following day.