Back to News 21 February 2022 by Kela Hodgins in Food & Recipes
After three storms in a row, we were really feeling the need to get out and grab some fresh air. It's half-term here this week, so making treats is always a great way to bribe the teens in our house to go for a walk!
I've made two really quick bars, one chewy (& vegan) the other crunchy and dipped in chocolate. Both are delicious and perfect for popping in a lunchbox to take on your travels.
Hope you like them and give the recipe a try. Kela x
Crunchy Peanut & Chocolate Bars
Ingredients:
60g honey dry roasted peanuts, roughly chopped (unsalted)
60g rolled oats
20g Ovaltine powder
15 g dessicated coconut
50g bran flakes
50g corn flakes
150g condensed milk
45g honey
75g dark chocolate, chopped
75g milk chocolate, chopped
Method:
Preheat oven to 180C and line a 20cm x 30cm baking tin with parchment.
Combine the first 6 dry ingredients from the above list in a large bowl. Mix well.
Add the condensed milk and honey to the dry ingredients and mix together until well combined.
Tip the mix into the prepared tin and smooth the top with the back of a spoon. Score the mix with a knife into the bar or square shapes you want.
Bake for 12 minutes then remove the tin to a wire rack. Cut the bars along the scored lines then allow to cool while you melt the chocolate.
Add chopped chocolates to a bowl and melt in a microwave or over a pot of simmering water.
Dip the bottom of the bars into the chocolate then leave to cool on the wire rack. Drizzle tops with any melted chocolate left over.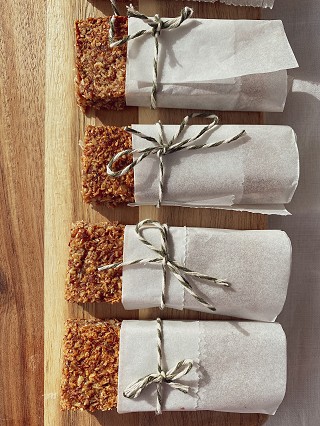 Chewy Date, Banana, Pecan & Oat Bars
These vegan friendly bars are packed with healthy stuff but taste so delicious you can convince the kids they're treats!
Ingredients:
2 large ripe bananas (approx 200g weight)
100g medjool dates, pitted
100g pecans
100g rolled oats
50g dessicated coconut
1/4tsp ground cinnamon
1/2 tsp fine sea salt
Method:
Preheat oven to 180C and line a 20cm square baking tin with parchment.
Using a food processor, first blitz the dates until well chopped. Add all the other ingredients then pulse until well combined.
Spread the mix in the prepared tin then bake for 25 mins until a nice golden brown.
Leave to cool in the tin then cut into the desired size bars / squares.
They can be wrapped individually in pieces of parchment tied with string or stored unwrapped in an airtight container for a few days.