Back to News 15 November 2021 by Kela Hodgins in Food & Recipes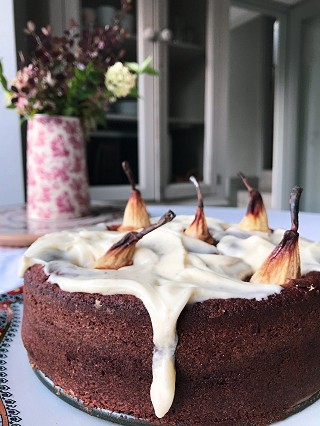 Pears and ginger are a fabulous combination but add in the subtle spice of crushed cardamon and you have a cake that wouldn't look out of place in a Scandinavian tea rooms.
I regularly go to bed with one of my favourite cook books, Zoe Bakes Cakes written by the wonderful Zoe Francois from the US. She inspires me to think outside the box and bake cakes that I never thought I could. I have drooled over a picture of this Pear cake for the last few months and finally decided to give it a go today.
With a few little changes to take into account what was in the store cupboard, this cake turned out a dream. It's very straightforward but adding the pears to the batter with their tops sticking out is ingenious - it gives the cake a real wow factor.
Pear, Ginger & Cardamon Cake
Ingredients:
165g butter, room temp
200g dark brown soft sugar
1.5 tsp vanilla extract
1 tablespoon chopped preserved ginger (in syrup)
2 large free range eggs
210 plain flour
1.5 tsp baking powder
3/4 tsp ground cardamon
120 ml buttermilk
5 medium ripe Conference pears, peeled & bottom sliced off thinly to make them stand. Leave stalk in place
120g icing sugar
3 tbsp single cream
1 tsp ground cardomon
Method:
Preheat the oven to 170C and butter the base and sides of a 22cm loose bottom cake tin. Dust with flour.
Add the butter, sugar and vanilla to a bowl and beat with an electric mixer until well combined and fluffy. Add the chopped ginger and combine briefly.
Add in the eggs one at a time and beat between each addition.
Sift one third of the flour and baking powder into the bowl, then beat. Add half the buttermilk, then beat again. Repeat with another third of the flour, beating, then the remaining half of the buttermilk. Finish with the last third of flour and make sure batter is well combined.
Spoon the batter into the prepared tin and smooth the top. Push the pears into the batter so that they stand up straight with the stalks sticking out. (See image below)
Bake in the preheated oven for approx 1 hour - 75 mins until skewer inserted comes out clean. Leave to cool in the tin before removing.
To make the icing, add the cream a tablespoon at a time to the sifted icing sugar and cardamon until it reaches a smooth and slightly "pourable" consistency. Drizzle over the cake before serving.