Back to News 04 October 2021 by Kela Hodgins in Food & Recipes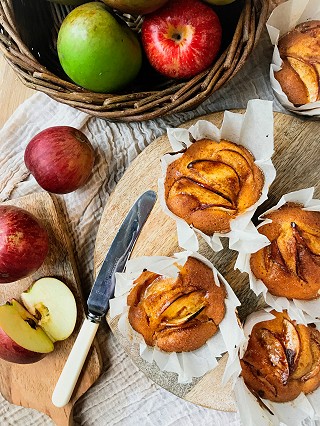 Still loads of apples here in the orchard so I'm always thinking of new ways to cook and eat them. This experimental little muffin is definitely one to keep, it combines all the delicious flavours of apple pie, a layer of creamy custard in the middle and a dusting of cinnamon sugar on the top while warm.
A really perfect Autumn treat, hope you try it out. Kela x
Apple & Custard Muffins
Ingredients:
90g butter, room temp
1/2 tsp vanilla extract
110g caster sugar
2 large free range eggs
110g self-raising flour
30g custard powder (I use Birds)
2 tablespoon milk
1 large unpeeled eating apple, I use Coxs Pippins in this
Extra butter melted for topping
Mix 1 tablespoon caster sugar & 1/2 tsp ground cinnamon
Custard Filling:
1 tablespoon custard powder
1 tablespoon caster sugar
125ml milk
1/4 tsp vanilla extract
Method:
First make the custard by blending filling ingredients together until smooth then gently heating in a small pan until it thickens. Cover pan with clingfilm (to avoid a skin developing) and leave to the side to cool.
Preheat oven to 180C / 160C fan and line a 12 hole bun tin or large 6 hole muffin tin with papers. I used the large tin to make 6 cakes.
In a large bowl beat the butter, sugar and extract together with a mixer then add the eggs in and beat until combined. Add the flour, custard powder and milk and beat again on medium speed for approx 2 minutes until pale in colour and well mixed.
Spoon a layer of the batter into bottom of each muffin case, then add a dollop of custard. Add another layer of batter on top and smooth to cover the custard layer. Place thin slices of apples on top and press lightly into the batter. See photo above of the 3 stages.
Bake in the preheated oven for 35 mins for the larger cakes or 25 minutes for the smaller ones.
Remove from the oven and brush the tops with melted butter then sprinkle generously with the cinnamon sugar mix. I prefer to eat these warm but they are good cold too.