Back to News 06 September 2021 by Kela Hodgins in Food & Recipes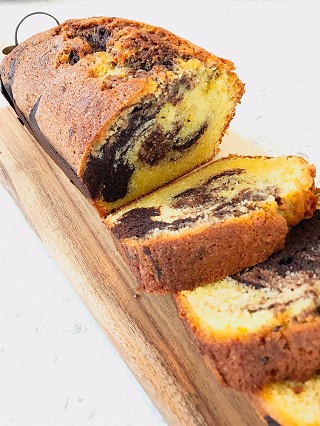 This is a cake that is quick, easy and a great all-rounder. It's perfect for an afternoon treat with a cup of tea or to add a little love to a lunchbox. The easiest way to achieve the marbling is to divide the batter in half and add sifted good quality cocoa powder to one half. Add random spoonfuls of each batter to the tin then use a skewer or knitting needle to swirl the two lightly together.
Chocolate Marble Pound Cake
Ingredients:
200g butter (room temp) or Stork margarine
200g caster sugar
1 tsp vanilla paste / 1 tbsp vanilla extract
3 large free range eggs
200g self-raising flour
3 tbsp good quality cocoa powder, sifted
3 tbsp buttermilk
Method:
Preheat oven to 170C fan and line a 2lb loaf tin with parchment or pre-cut liners.
Beat the butter and sugar together until light and fluffy. Add the vanilla then beat again briefly to combine.
Add the eggs one at a time, beating between each addition. Sift in the flour and fold in gently to the batter. You may decide to add one tbsp of buttermilk at this stage and combine again.
Divide the mixture in half, putting one half in another bowl. Add the cocoa pwder and fold into the batter with a spatula or large metal spoon. Add the remaining buttermilk to loosen the batter.
Using a large spoon, drop dollops of each batter randomly into the tin (see image below). Use a skewer or knitting needle to swirl the batters together to create a marble affect.
Bake in the preheated oven for 50mins - 1 hour until a skewer inserted comes out clean. Leave to cool in the tin for 10 minutes before removing to cool fully on a wire rack.