Back to News 27 July 2021 by Kela Hodgins in Food & Recipes
When your baby turns 13 on CakeMonday, we have to pull out all the stops! This newly minted teenager requested a Funfetti Cake, inspired by one of my favourite American bakers Zoe Francois. I've adapted it slightly for metric measurements and local ingredients but the outcome was still fabulous. It's a triple layer white sponge cake, filled and covered with a delicious American Buttercream.
You can fold sprinkles into the batter at the last minute so that when you cut into the cake there are colour sprinkles decorating the inside of the sponge as well as the outside. The sides are covered with sprinkles - you can cover the top too with them but I left it smooth, added a piped edge and decorated with "flying saucer" wafers and candles.
In our house a party ain't a party without Rice Krispie Buns and cocktail sausages and we had both! The buns are a little more grown up and work brilliantly as a treat to keep in the fridge to have with a cuppa. The cocktail sausages baked with honey were demolished by the adults before I could barely get a stick into them!! Some things don't change ;-)
Enjoy, Kela x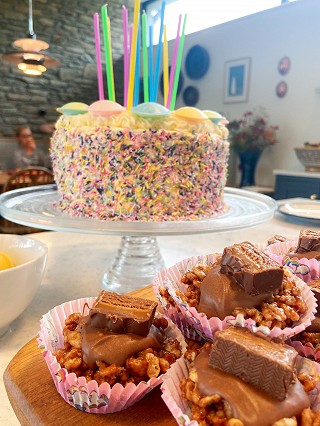 Funfetti Party Cake
This triple layer cake features a white sponge, the colour achieved by using egg whites only. This helps the sprinkles that are folded into the sponge batter, stand out more when it's baked. You can use eggs seperated or try some of the pre-perpared bottles of egg whites you can find in the chilled cabinets (see image below).
Sponge Mix:
115g butter, room temp
80g Stork margarine
400g caster sugar
1 tbsp vanilla extract
1/2 tsp almond extract
240ml egg whites (approx 6 eggs)
300g plain flour
50g cornflour
2 heaped tsp baking powder
120ml buttermilk, room temp
175ml cream, lightly whipped
75g sprinkles
Buttercream Mix:
750g icing sugar
330g butter, room temp
1+1/2 tbsp vanilla extract
1 tsp almond extract
60ml - 120ml whipping cream
Sprinkles to decorate
Sponge Method:
Preheat oven to 160C fan / 175C reg and grease 3 x 20cm sponge tins. Line the base of each with a disk of parchment paper.
Cream the butter and margarine together until light and creamy using a hand mixer or the paddle attachment on a free-standing mixer.
Add the sugar, vanilla and almond to the butters and beat for approx 5 minutes until light and fluffy.
Gradually add the egg whites to the mix, a little at a time, beating well between each addition.
Sift the flour, cornflour and baking powder into a seperate bowl.
Spoon 1/3 of the flour mix into the egg mix and beat until combined. Add 1/2 of the buttermilk, beat again. Repeat process with another 1/3 of the flour, then the remaining buttermilk, then final amount of flour. Beat between each addition.
Gently fold the whipped cream into the batter using a spatula until well combined. Finally fold in the sprinkles, if using. You can leave them out if preferred.
Divide the batter between the three tins, smoothing the top of each. Bake in the preheated oven for approx 25 mins until light golden in colour and a tester inserted comes out clean. Leave to cool in the tins on a wire rack until cold before tipping gently out. They must be fully cold before assembling.
Buttercream Method:
Using a hand mixer or free-standing one beat the butter and icing sugar together until well combined into almost a paste.
Add the almond and vanilla extracts then beat again for a few seconds.
With mixer on low speed gradually add the cream a tablespoon at a time until it reaches a spreadable consistency. You may not need to use the full amount of cream.
This buttercream works well as a spreadable filling, a cake covering and piped using a piping bag.
To decorate:
Remove the parchment from base of sponge and place one layer of sponge on a plate or cake stand. Spread with the buttercream, right out to the edges then place another layer of sponge on top. Repeat with a layer of buttercream before adding the top layer.
To lock in crumbs and stop them coming through on the icing, I like to crumb-coat the outside. This is a thin layer of buttercream spread all over the sides and top of cake. Then put the cake in the fridge or freezer for at least 30 minutes. (see image above)
The final thick layer of buttercream can be spread all over the cake and smoothed using a spatula or knife. You can pipe the top with any remaining buttercream if desired. The sprinkles are added to the side by patting handfulls into the buttercream - it can be messy so you might need a little brush or hoover to clean up (if you're like me!!)
Grown-Up Rice Krispie Buns
These no-bake treats are a version of that all-time kids party favourite. Make extra and hide them away for a treat when the party mayhem is over!!!
Makes approx 24 buns.
Ingredients:
5 x 60g Mars bars
50g butter
120g Rice Krispies
200g good quality milk chocolate, melted. Hard to beat Cadburys for this!
Method:
Line 2 x 12 hole bun tins with paper cases.
Chop 4 of the Mars bars and add to a medium / large saucepan with the butter.
Heat gently and stir until smooth and melted. Stir in the Krispies and mix well to cover.
Press the mixture into the cases, spread with melted chocolate then top with slices of Mars bars, taken from the remaining 2 bars. Mini-marshmallow are also good on top of these.
Chill in the fridge for at least 30 minutes before serving.