Back to News 12 July 2021 by Kela Hodgins in Food & Recipes
There's a glut of courgettes in the garden - if I served them again for dinner there was going to be mutiny. This cake is the most amazing way to use up those extras you don't know what to do with! I'm counting this light, moist and utterly delicious cake as one of my 5-a-day. There's certainly no bribery needed to eat your vegetables when it's made into something as moreish as this!
Enjoy, Kela x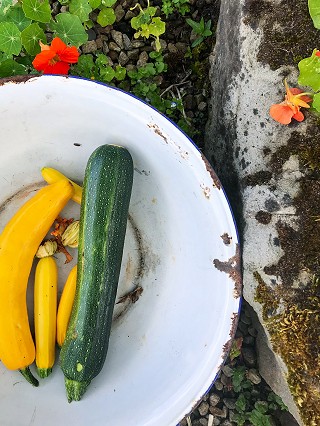 Ingredients:
50g good quality cocoa powder (plus extra for dusting)
270g plain flour
1 tsp bicarbonate soda
200g soft brown sugar
150g caster sugar
110g butter, room temp
120ml sunflower oil
1 tsp vanilla extract
2 free range eggs
120g Greek yogurt (full fat)
315g grated courgette
115g quality dark chocolate, at least 54% cocoa. Melted then left to cool slightly.
Method:
Preheat the oven to 160C fan and oil a 2.8lt Bundt tin or 23cm cake tin. If using a regular cake tin, grease the sides and line the base with parchment.
Sift the cocoa, flour & bicarbonate soda into a bowl and leave to side.
Cream the butter and sugars together until light and fluffy. You can use an electric whisk or the paddle attachment on your free-standing mixer.
Gradually drizzle in the oil and vanilla extract then beat for a further 5 minutes. Add the eggs one at a time, beating well between each addition.
Add a 1/3 of the flour mix to the batter, mixing until just combined. I used a spatula to mix. Add 1/2 of the Greek yoghurt, again mixing. Repeat process with the other 1/3 of flour, then the yoghurt then finally the last 1/3 of flour. Mix well between each addition. (See image below)
Add the grated courgette, stirring to combine. Then add in the melted chocolate.
Pour the batter into the prepared tin, smoothing around to even out. Give the tin a few hard bangs on the worktop to make sure it settles into the grooves of the Bundt tin and air bubble escape.
Bake for 45-50 minutes in the oven - a skewer inserted should still have some moist crumbs attached. It is really important you don't overcook this cake.
Allow to cool in the tin for 10 minutes before turning out onto a serving plate. Dust with extra cocoa powder and serve with Greek yoghurt and berries if you like.