Back to News 07 June 2021 by Kela Hodgins in Food & Recipes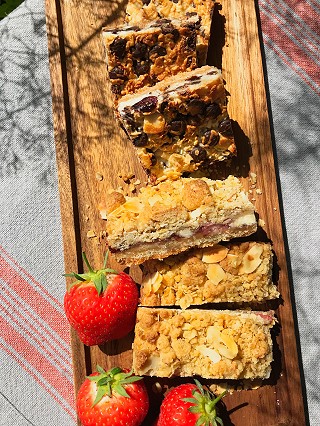 Summer is finally here and we are eating a lot more outdoors and on the go. I love to have a box of treats in the fridge that we can have with a flask of coffee after our swim or bring for a snack when we go for a long walk.
The Strawberry & White Chocolate Squares are crumbly, oaty and nutty. A layer of shortbread baked with a layer of strawberry jam, fresh strawberry slices and white chocolate chips, then topped with an almond crumble mix.
The Magic Slice recipe is from my good friend Diana Dodog who used to have long queues at her food truck especially for her treats and Mikes coffee. A lot of people miss her food, us included!
Oaty Strawberry & White Chocolate Squares
225g Plain Flour,
1 tsp baking powder,
100g Caster sugar,
85g soft light brown sugar,
225g butter,
150g porridge oats,
200g good strawberry jam (raspberry works great too!)
Fesh strawberries, sliced
100g white choc chips,
25g flaked almonds
Method:
Pre-Heat oven to 180C / Gas mark 4. Line a 30cm x 20cm baking tin.
Sift flour & baking powder in a large bowl or food processor. Add in sugars & mix well. Add butter & rub in until it resembles breadcrumbs (if using a bowl) or blitz in the food processor.
Stir in the oats. Press 3/4 of the mixture into the tin then bake in oven for 10 mins.
Take out then spread jam over base & sprinkle over the sliced strawberries and choc chips. Add almond flakes to the remaining crumb mixture then sprinkle evenly over the top. Press down gently.
Bake for a further 20 minutes or until golden brown. Allow to cool in tin before cutting into slices. Keep chilled in fridge.
Diana's Magic Slices
190g digestive biscuits
90g butter, melted
1 cup dessicated coconut
1 cup mixed dried fruit (or whatever dried fruit you have)
1 cup flaked amonds
1 cup chocolate chips (white, milk, dark or a mix)
1 tin condensed milk.
Method
Preheat oven to 180C / Gas Mark 4. Line a 30cm x 20cm baking tin.
Blitz the digestives in a food processor until they resemble breadcrumbs then pour in the melted butter. Blitz again until both combined. Press the crumbs into the base of the tin then chill in the fridge or freezer.
In a separate bowl, combine all the other ingredients until well mixed together. Spread this onto the chilled base, leveling with a spatula or spoon.
Bake in the oven for 20-25 mins until golden brown on top. Allow to cool fully before slicing - if you chill overnight in the fridge it's easier to cut into the desired size pieces.