Back to News 17 May 2021 by Kela Hodgins in Food & Recipes
No matter how many times I ask for cake suggestions, there are always requests for a Black Forest Cake or Gateaux. During a recent shop in my local Lidl, I spotted this jar of sour Amarena Cherries which are perfect for recreating this classic cake from the 70s & 80s. If you can't find sour cherries, a tin of black cherries also works. You may need to drain the juice first, then reduce it down by simmering in a saucepan to get a thicker syrup.
I use my classic chocolate cake sponge recipe here, which includes melted dark chocolate rather than cocoa powder. I find this give a richer smoother cake, perfect for this recipe. Drizzle the sponge with the sryup too for a richer finish.
It was a perfect cake for welcoming my parents on a visit to West Cork. Neither had been away from home in Dublin for almost a year, so it was a real cause for celebration having them come for a long-overdue mini-break x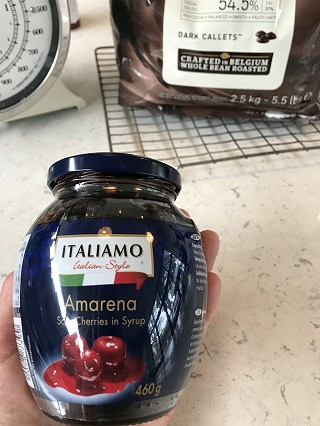 Ingredients:
150g softened butter or margarine
150g good quality dark chocolate (min 54%) broken into pieces
150g caster sugar
5 free range eggs
150g self-raising flour
1 tsp baking powder
For filling: 250ml double cream, 1-2 tblsp icing sugar, sour cherries and grated dark chocolate.
Method:
Preheat oven to 180C or 160C fan. Grease and line two 20cm sandwich tins with parchment paper.
Place the chocolate in a heatproof bowl over a pot of simmering water to melt. Stir occassionally until all smooth.
While the chocolate melts, beat the butter and sugar together in a large bowl using an electric beaters until light and fluffy.
Gradually add the eggs to the batter, one at a time, beating well between each addition. If the batter starts to curdle, sift in a little flour and beat again.
When all the eggs are added, sift in the flour and baking powder, folding in with a large spoon or spatula. Finally add the melted chocolate to the mix, folding this gently into the batter.
Divide the mix between the two tins and bake in the centre of the oven 20-25 minutes until risen, firm to touch and a skewer inserted comes out clean.
Leave to cool in the tins for 5 minutes before tipping out to cool completely on a wire rack.
While the sponges cool, whisk the cream with the icing sugar until it forms peaks. Be careful not to over whisk.
To assemble, spread the bottom layer with cream then top with the cherries. Do the same to the top layer and place on top of the bottom layer. Drizzle with the cherry syrup and sprinkle with the grated chocolate (see image).