Back to News 19 April 2021 by Kela Hodgins in Food & Recipes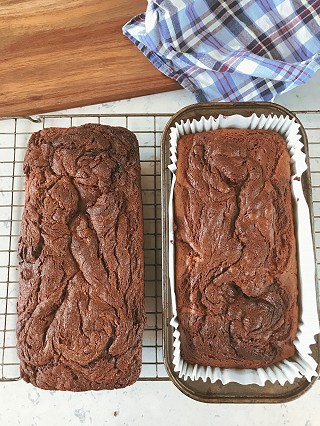 After a busy couple of weeks with intimate weddings, this Monday I went overboard and baked two delicious cakes for you to try out.
First up is a Meringue Roulade, which you can fill with whipped cream and your choice of fresh or poached fruit. I'm using rhubarb from the garden but any Summer or poached fruits work great as a filling. This is a perfect dessert for enjoying lunch or dinner al fresco at things open up again for us all.
Secondly, I've added swirls of hazelnut chocolate spread or Nutella (if you're into your brand names ;-)) I got a bit sick of Banana Bread in Lockdown V1 but this version makes it feel more of a treat.
Meringue Roulade
If you'd like a step by step guide to assembling a roulade, check out the Meringue highlight on our Instagram page. Using a clean tea towel to help roll it up, makes it so much easier to handle.
Ingredients:
5 egg whites, room temperature
A pinch salt
3 tablespoons cold water
250g caster sugar
1 tablespoon cornflour
1 tsp vanilla extract
1 tsp cider / white wine vinegar
Icing sugar for dusting
Whipped cream & fruit of choice to fill and serve
Method:
Preheat oven to 175C or 165C fan. Line a 40cm x 28cm baking sheet with greased baking parchment.
In a super squeaky clean bowl, whisk the egg whites and pinch of salt until they form soft peaks (approx 3 mins). You can use an electric hand whisk or stand mixer.
At a medium speed, sprinkle in the cold water with the mixer running. Next add the caster sugar, one spoonful at a time, again with the mixer running. When all added, turn the mixer to high and whisk until the meringue becomes glossy and forms stiff peaks. This can take up to 5 minutes.
Gently fold in sifted cornflour, the vinegar and vanilla extract into the egg whites. Next spread the meringue onto the baking tray, using a spatula to smooth out evenly across the tin.
Bake for 20-25 minutes in the preheated oven. It should turn a very light golden colour. Remove and allow to cool fully in the tin. I like to cover the meringue with a clean tea towel while cooling.
Whip the cream with a little icing sugar and prepare the fruit filling of choice.
To assemble, tip the cooled meringue out onto the clean tea towel, which you can sprinkle with icing sugar beforehand. Remove the parchment lining carefully. Spread the whipped cream across the meringue then scatter with the fruit filling.
With a short edge closest to you, roll the meringue over on itself using the tea towel to roll up tightly. Cover with clingfilm and chill in the fridge for at least one hour before serving.
Banana Bread with Hazelnut & Chocolate Spread Swirls
At a touch of luxury, with this delicious Banana Bread recipe. This recipe makes 2 x loaves
Ingredients:
4 medium bananas, mashed with a fork
200g light soft brown sugar
110g butter, melted
120ml milk
2 eggs, lightly beaten
1 tsp vanilla extract
400g plain flour, sifted
2 tsp baking powder
1tsp bicarbonate soda
2 heaped tablespoons Nutella or Chocolate Hazelnut Spread. Heat in microwave to 10-20 secs to make a little runny.
Method:
Preheat oven to 175C or 165C fan. Grease and line two 20cm x 10cm loaf tins with baking parchment.
Combine the bananas, sugar, melted butter, milk, eggs and vanilla in a large bowl. Use a spatula to mix everything well.
Sift the flour, baking powder and bicarbonate soda into the wet ingredients. Stir gently until the batter is smooth and well combined.
Divide the mixture between the two tins. Add blobs of the melted spread on top of the batter then using a knife or skewer, swirl it around to distribute evenly.
Bake in the preheated oven for approx 45 mins. A skewer inserted into the middle should come out clean.
Remove from the tins and leave to cool on a wire rack (although I do like mine still a little warm).
Enjoy!