Back to News 11 February 2021 by Kela Hodgins in Food & Recipes
I used to hate going out for St. Valentines Day dinners, all those public displays of love and romance (my inner Grinch revealed)! Well how I would LOVE now to be heading out for a treat with my Valentine or my Galentines, enjoying glasses of bubbly and some really good food while not talking about COVID!!
Hopefully I can help you take your mind off things this weekend and show you how you can treat yourself to a delicious home-cooked treat meal. On the menu is a Beef Wellington and Salted Caramel Chocolate Pots. If you follow us on Instagram, I have posted a highlight in our Stories with step by step video on how to achieve a perfect Wellington. It's not complicated at all! Follow us on @dunowen_house to see how.
Beef Wellington
Before we start these are my Top Tips:
- Season & sear the beef fillet before you even think about covering in pastry. This gives good colour & even better taste.
- Make the Wellington on a sheet of parchment paper, makes it very easy to slide off into a roasting pan.
- Cool everything before assembly to avoid a "soggy bottom" with the pastry.
- Chill assembled Wellington in fridge for an hour before cooking.
- 35 mins for rare, 45 – 55 mins for medium & well done. A skewer inserted into the meat should come out hot to touch.
- Rest for 10 minutes before carving.
Ingredients: (Serves 2-3)
750g fillet beef, trimmed of sinew & fat (your helpful butcher can do this for you)
2 tsp fresh thyme leaves
Sea salt & pepper
Olive oil & knob butter
1 clove garlic
150g chestnut or oyster mushrooms, chopped
Splash red wine or port
2 rolls of puff pastry, ready rolled or make your own
85g farmhouse style pate
1 egg, whisked
1. Season beef fillet with the thyme, salt & black pepper. Melt butter & oil in a hot pan, then sear the beef on all sides – approx 2-3 mins on each side, then 1 minute on the end pieces. Place to side and cover lightly with foil, allow to cool completely.
2. Add the chopped mushrooms & crushed clove garlic to the pan that you cooked beef in. Cook on high heat until tender then add a splash of wine or port. Lower heat and bubble away until liquid has mostly evaporated. Leave to cool.
3. Lay a large sheet of parchment on a work surface, sprinkle with polenta or flour before putting first layer of pastry down. Spread the pate in the middle, to approx size of your piece of fillet.
4. Place the fillet on top, then on top of the fillet spread the mushroom mix. Brush around edges of pate and beef with water before placing second layer of pastry on top.
5. Tuck the pastry around the beef, pressing top and bottom layer together to make sure no air trapped. Trim the edges of excess pastry, then crimp all around with a fork to seal tightly. Brush the pastry with the egg to give it a nice finish.
6. Leave the assembled beef to chill in the fridge. Approx 20 minutes before you want to cook, preheat the oven to 200C.
7. Bake in the hot oven until it's cooked to you liking – see time guides above.
Salted Caramel Chocolate Pots
These are so rich and decadent, that you really only need a small portion. I serve these in little vintage china cups, with strawberries and hand-piped white chocolate hearts. These can be made the day before or earlier in the day…they need at least 2 hours to chill and set before diving in!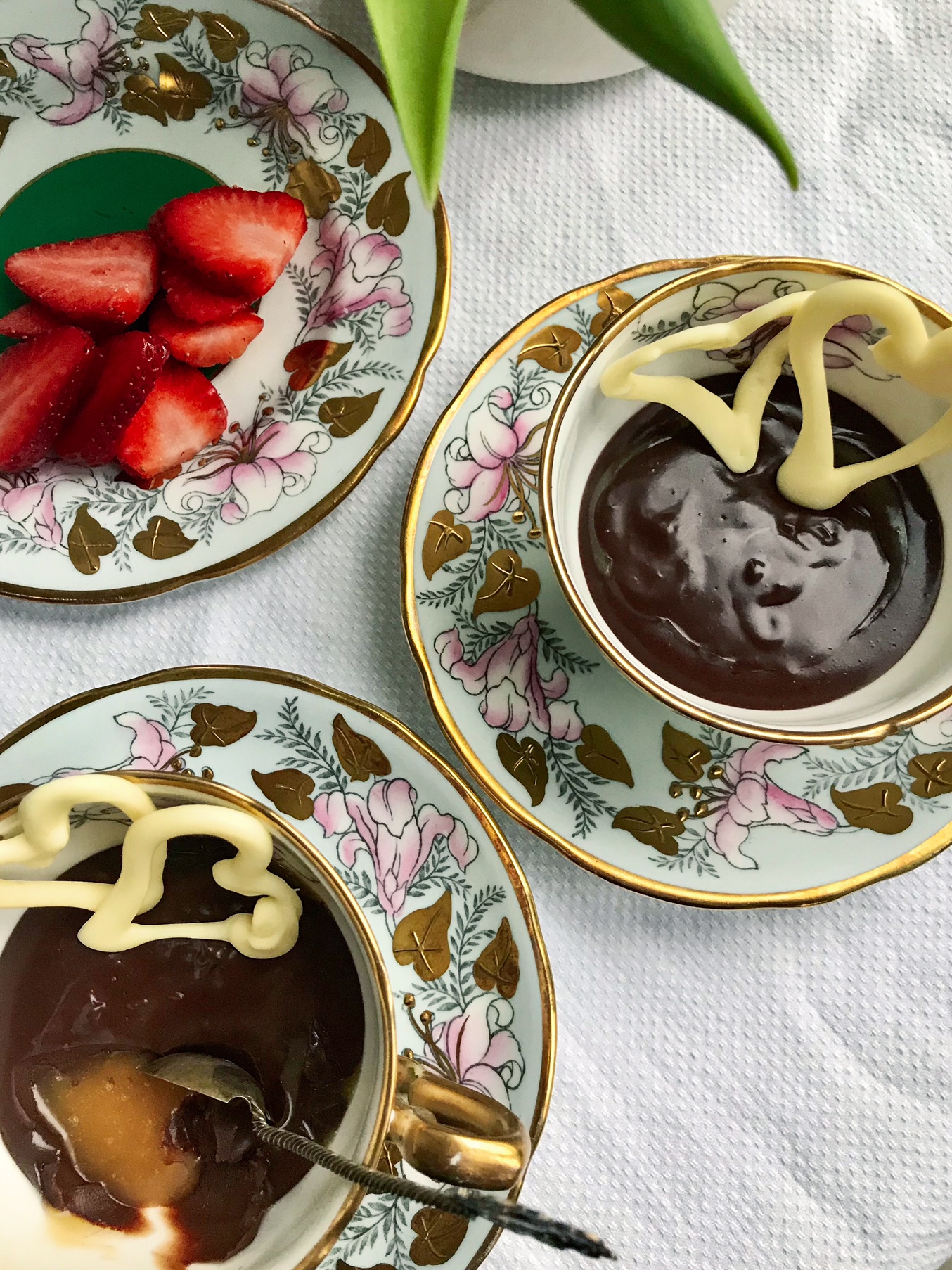 Ingredients:
Salted Caramel
100g soft light brown sugar
75ml double cream
15g butter
Pinch sea-salt flakes
Chocolate
150ml double cream
75g good quality dark chocolate, chopped
75g good quality milk chocolate, chopped
1 large free range egg yolk
1. First make the Salted Caramel by adding all the caramel ingredients into a small pot. Slowly bring to the boil, stirring to make sure the sugar is well dissolved. When it reaches boiling point, lower heat slightly and allow to simmer for approx 2 minutes until it begins to thicken. Pour into a shallow bowl then leave in fridge to chill for about 2 hours.
2. To make chocolate, place the chopped chocolate into a bowl. Heat the cream in a small pot until it just reaches boiling then pour this over the chocolate. Beat together until the chocolate is completely melted.
3. Add the egg yolk to the chocolate mix then beat until it is all smooth and glossy.
4. Spoon a layer of the chocolate at the bottom of the cups or ramekins, then add a spoonful the caramel on top. Next spoon another layer of the chocolate on top so that the caramel is hidden.
5. Cover with clingfilm and place in the fridge to set for at least 2 hours.