Back to News 04 February 2021 by Kela Hodgins in Food & Recipes
Roll on another weekend and some ideas to spice up your cooking. I'm including three recipes here:
Turkey Kebabs – made with mince and lots of fresh herbs & spices
Stuffed Aubergine Rolls & Spicy Red Pepper & Tomato Sauce – includes my secret VEGAN filling for the aubergines
Indian Spiced Stir-Fry Prawns – a bit of oompf and a delicious alternative to your usual prawn takeaway
Turkey Kebabs (or mini burgers)
Turkey mince is such a nutritious and economical ingredient but I always think it needs a good kick to jazz it up. These Pakistani inspired kebabs are a really zesty, light and delicious way to use turkey mince and a great way to introduce kids to new tastes. Pack them into a pitta, with some mango chutney, finely sliced red onion rings, shredded lettuce and lemon or lime juice. This recipe makes 6 small patties of 4 larger.
Ingredients:
300g pack minced turkey
2 tablespoons Greek yoghurt
1/2 tsp salt
1 tablespoon whole coriander seed & 1 tsp whole cumin seed, lightly ground in a pestle & mortar (or bashed with a rolling pin!)
3 tablespoons chopped fresh mint
1/2 tsp chilli flakes
1 tsp freshly grated ginger
1. Combine all the ingredients together in a bowl, mix well and leave covered in a fridge for at least 1 hour to max 24 hours. This gives the mix a chance for all the flavours to work together.
2. When ready, take 1 tablespoon sized amount of the mix, form into a pattie. You should get between 4-6 from the mix depending on size.
3. Heat olive oil over a med-high heat in a pan and fry the kebabs until golden on each side and cooked through.
4. Serve as pictured above or place in pitta with your choice of chutney and garnish.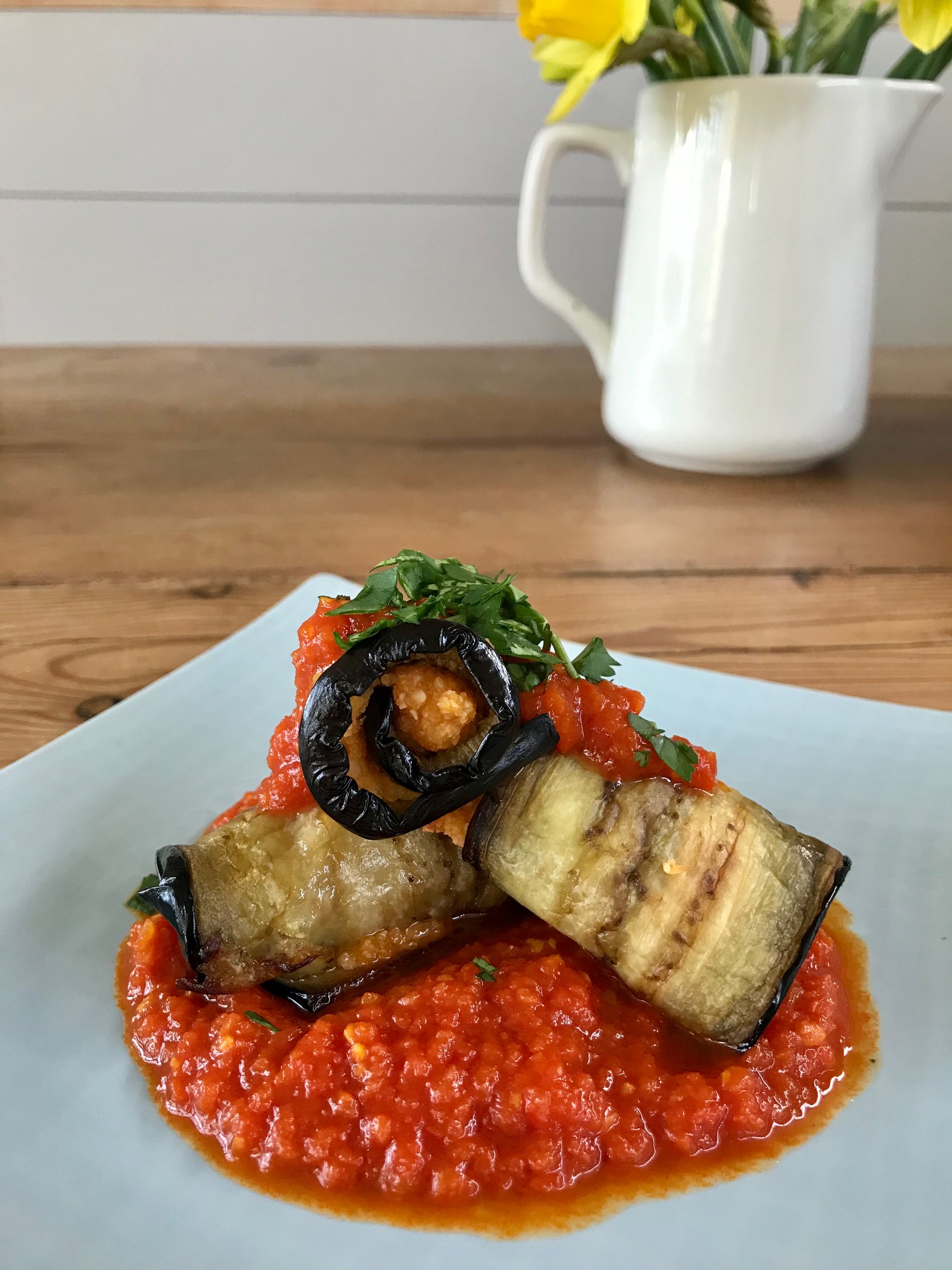 Stuffed Aubergine Rolls with Spicy Red Pepper & Tomato Sauce
When I cook these for guests I often ask them to guess the filling in these Aubergine Rolls – they never can! It's so simple yet so delicious and a great idea for vegan or vegetarian dishes.
Ingredients:
2 aubergines, ends trimmed and sliced length-ways from top to bottom
100g ground almonds
Sriracha sauce (approx 2 tablespoons)
For sauce:
1 red pepper, deseeded & chopped
4 shallots, peeled and roughly chopped
3 cloves garlic, peeled
1/4 tsp ground turmeric
1/2 cayenne pepper
2 tablespoon olive oil
1 tin, finely chopped tomatoes or passata
Pinch salt & sugar to taste
1. Preheat oven to 200C and lay the aubergine slices on a baking tray lined with parchment. Brush both sides lightly with olive oil. Bake in the oven until they start to turn brown and are soft. You will need to turn them once during cooking. Remove when ready.
2. To make the filling for the aubergine rolls, place the ground almonds, Sriracha sauce & a little water in a bowl – mix until it's the consistency of peanut butter. You need to be able to spread this on the slices (see image above).
3. Using a knife, spread the filling then roll up the slices. These will go back into the oven 10 minutes before serving to heat back up and brown more.
4. To make the sauce, place the first 5 sauce ingredients in a food processor / blender with a couple tablespoons of water. Blitz until smooth and looking like a paste.
5. Heat olive oil in a pan then add the paste mix and cook until moisture evaporates and it becomes thicker. Then add the passata / chopped tomatoes, the salt & sugar to taste. Simmer for a further 15-120 mins until sauce becomes richer and thicker.
6. To serve, spoon sauce on plate, add some of the heated rolls, a little sauce over the top and finely chopped parsley or coriander.
Indian Spiced Stir-Fry Prawns
These are really quick, so tasty and can be made using defrosted or fresh prawns. Either way, drain in a sieve and pat dry with kitchen paper before using.
Ingredients:
350g peeled prawns
1/4 tsp turmeric
1/4 tsp cayenne pepper
1 tsp ground coriander
1/2 tsp ground cumin
Pinch salt
1 tablespoon olive oil
1/4 tsp whole mustard seeds
1/4 tsp whole cumin seeds
1 clove garlic, peeled & chopped
Lemon juice
1. Place prawns in a bowl and add the turmeric, cayenne, ground coriander, ground cumin & salt. Mix to make sure the prawns are well coated by the spice mix.
2. Add the oil to a wok or large frying pan and when hot, add in the whole mustard & cumin seeds. Fry until mustard seeds begin to pop then add the garlic. Stir once / twice before adding in the prawns and stirring a couple of times.
3. Turn heat down and allow the prawns to cook through and turn opaque (approx 3 mins).
4. Before serving add a good squeeze of lemon juice and chopped coriander, then toss well.
5. These are great served with steamed basmati rice and a vegetable side dish.