Back to News 28 January 2021 by Kela Hodgins in Food & Recipes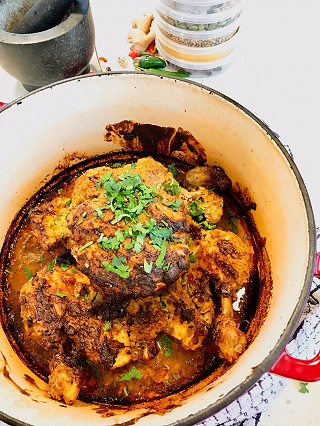 If like us you are missing the joy of eating delicious meals cooked by someone else, you might be interested in spicing up your own home cooking with some new recipe ideas. Below you will find two dishes using chicken (whole & diced) and a delicious Red Lentil Dal.
We love curries and the weekend is a perfect time to cook them, when you have a little more time to prepare ingredients and enjoy the process. A few key ingredients on hand will help you create lots of different dishes, adjust the spices to make the dishes hot or aromatic.
Here's my list of things that are really useful when preparing a range of curries.
Fresh Spices:
Whole coriander & cumin seeds
Cardamon pods
Turmeric
Cinnamon sticks
Chilli, Cayenne and Paprika powder
Garam Masala
I like to only grind what I need rather than buying the spices ready ground. They last longer and keep their flavour better. I generally lightly toast the spices on a dry pan first then use an old coffee bean grinder or pestle & mortar to crush or grind them just before use.
Whole marinated & baked chicken with a spice crust
This is a great way to spice up your regular roast chicken dinner. It takes a little advance prep as you need to marinate the chicken at least 4 hours beforehand. I like to do this overnight for the best results.
1 × 1.5kg (approx) whole free-range chicken
Juice half a lemon
1/2 tsp salt
3 tblsp olive oil
1 tsp whole cumin seeds
Spice Paste / Marinade
2 tblsp lemon juice
1 medium onion finely chopped
250ml natural bio yoghurt
thumb size piece of ginger, peeled & grated
3 large cloves garlic crushed
1 tsp cayenne pepper
1 tsp salt
2 tsp garam masala
2 tblsp flaked almonds
1. Combine all the spice ingredients together in a food processor, then blitz until it forms a paste. Leave to one side.
2. Remove the skin from the chicken, you can leave it on the wings as that can be tricky to get off. Make a couple of deep gashes in the breasts then sprinkle all over with 1/2 tsp of salt & the lemon juice. Leave to rest for approx 10-15 mins.
3. Put the chicken, breast up in a bowl and cover with the spice paste. Cover the bowl with clingfilm then leave in the fridge for at least 4 hours or overnight.
4. When ready, preheat the oven to 180C. Put the oil in a deep cast iron ovenproof casserole that has a lid and is big enough to fit the chicken. When hot add the cumin seeds and fry for a minute before adding the chicken (breast up) and all the paste. Bring to a simmer, cover with a lid then pop into the oven. Bake for 30 minutes with the lid on then remove the lid and cook for another 40-50 minutes, depending on size of the chicken. Baste every 20 minutes with the juices.
5. When cooked, sprinkle with chopped coriander and serve with steamed rice, a veggie or dal sidedish.
Kerala Chicken Curry
This aromatic and lightly spiced chicken curry is adapted from a recipe from Indian cook, Madhur Jaffrey. I love her recipes and she has so many interesting ways to use vegetables. This curry is a light creamy curry without being heavy like a Korma. It's a good one for all the family, especially if you're introducing children to new things. Great served with plain steamed rice and a veggie side dish.
I use an wide ovenproof deep pan with a lid for this.
Ingredients:
Olive oil
1/2 tsp cumin seeds
1/2 tsp brown or yellow mustard seeds
1 medium onion, finely sliced into rings
2 tsp grated fresh ginger
4 cloves garlic crushed
900g chicken, skinless breast or thigh meat, diced
1 tsp cayenne pepper
1 tblsp paprika
1 tsp salt
10 fresh basil leaves (or curry leaves if you get them)
200ml / half can of full fat coconut milk
1. Put 2 tbsp olive oil in the pan and when hot add in the whole cumin & mustard seeds. Stir until the mustard seeds begin to pop then add in the onions. Fry, stirring occasionally until they take on colour and are light brown at the edges.
2. Add the ginger, garlic, chicken, cayenne, paprika, salt and basil leaves to the onions. Stir for approx 1-2 minutes before adding in 150mls water.
3. Bring to a simmer, cover and cook on a lower heat for about 20 minutes. Stir occasionally.
4. I like to finish this in the oven, so pop into a preheated 180C oven without the lid for approx 10 minutes. This will reduce the liquid a bit.
5. Remove and add the coconut milk, stir then return to the oven to reduce further, probably another 10 minutes.
Red Lentil Dal
This is perfect on it's own with Naan or pitta, served as a sidedish with either of the curries above or as part of a veggie or vegan meal with rice. It keep great in the fridge and I always think is nearly better the next day as the spices have had a chance to develop.
Ingredients:
3 cloves garlic, crushed
1 tsp grated fresh ginger
1 tblsp ground coriandeer
1 tsp ground cumin
1/2 tsp cayenne
1/2 tsp turmeric
2 medium onions, finely chopped
200ml or half a can chopped tomatoes
200g red lentils, washed and drained (I do this in a sieve under a running cold tap)
1 tsp salt
Chopped fresh coriander
1. Mix the first 6 ingredients together in a small bowl & leave aside.
2. Heat 2 tblsp olive oil in a heavy bottom pot then add the chopped onions. Stir & fry until they turn a nice golden brown colour (don't burn!).
3. Add in the spice mix from the bowl and stir with the onions for approx 1 minute.
4. Add in the chopped tomatoes and stir.
5. Add in the lentils, 600ml water and salt. Stir and bring to the boil. Cover lightly with a lid, reduce the heat and allow to simmer for approx 45 mins.
6. Stir then leave to cook for a further 5 mins without the lid to reduce a little. Before serving stir in the chopped coriander.