Back to News 12 October 2020 by Kela Hodgins in Food & Recipes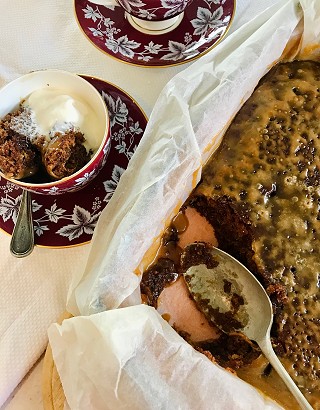 How about some Sticky Toffee Pudding Cake, the ultimate comfort food treat?
If you thought the Apple & Almond Cake was easy to make, then this is a cinch – you don't even need a mixing bowl as it's all made in a pot then tipped into the cake tin.
It is made in two stages – firstly the date sponge base, then almost at the end of cooking you remove for the oven for the second stage, a layer of bubbling toffee sauce poured over the top.
This is best served warm with vanilla ice cream or whipped cream over the top. I like to serve it in vintage teacups but serve in bowls if preferred.
Sticky Toffee Pudding Cake
Ingredients:
175g pitted dates, chopped
1 tsp bicarbonate of soda
85g butter, diced
85g caster sugar
70g light muscovado / soft brown sugar
175g self-raising flour, sifted
1 free range egg, beaten
Sticky Toffee Topping:
70g butter
140g light muscovado / soft brown sugar
100ml double cream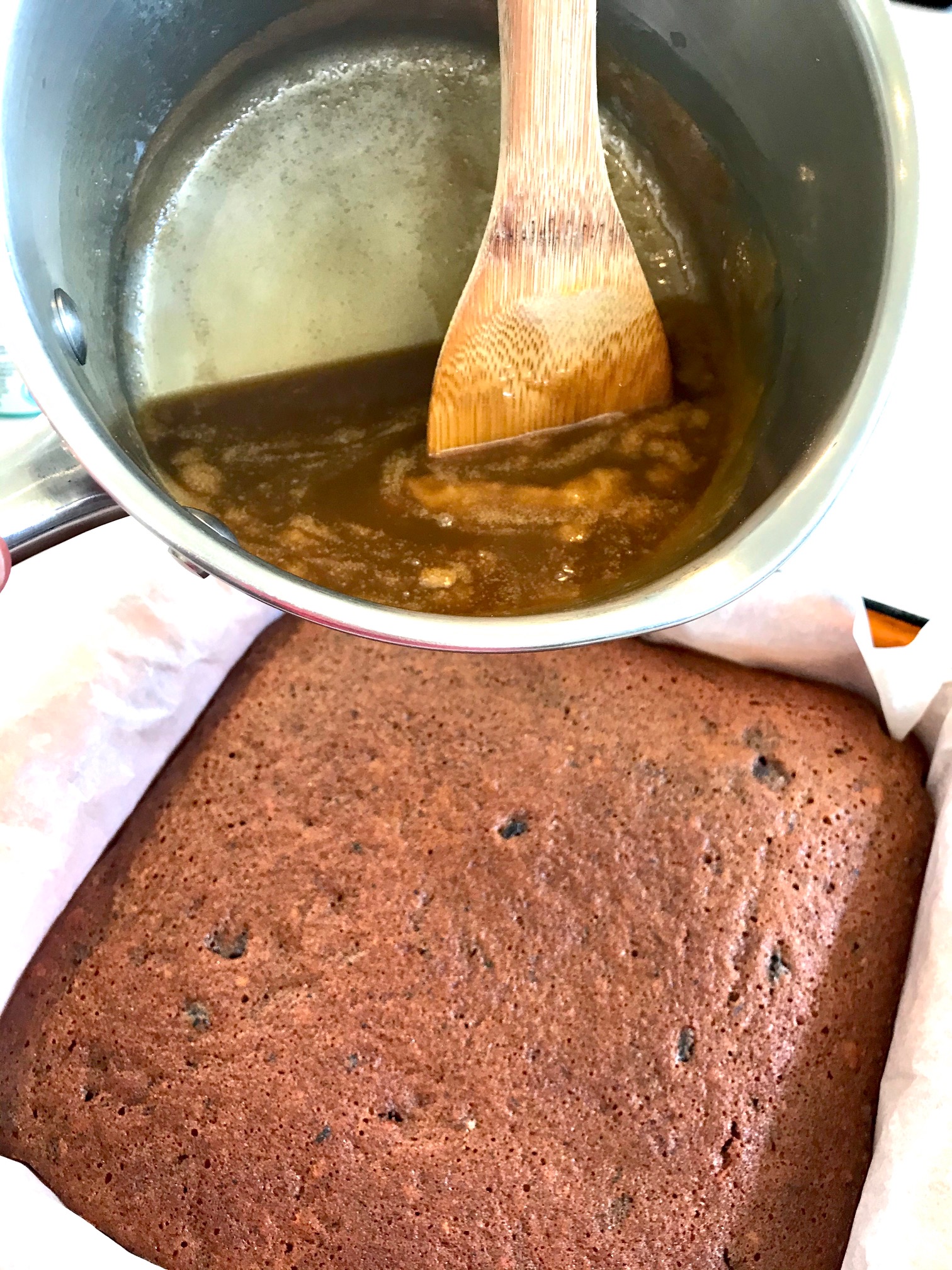 1. Preheat oven to 170C Fan or 190C regular and line a square or round cake tin that's approx 18cm wide & at least 10cm deep with parchment paper.
2. Place the chopped dates, 250ml boiling water and 1tsp bicarbonate soda in a heavy bottom saucepan. Heat over a low heat for approx 5 mins until the dates are soft & squidgy. Remove pot from the heat and add in the butter, stirring gently until melted. Next add in the sugars and flour, stirring gently until well combined. Lastly add in the beaten egg and stir.
3. Pour the mix into the prepared tin and pop in the oven for 20-25 minutes.
4. While the base is in the oven, prepare the sticky toffee sauce by putting the topping ingredients in a pot (you can use the same pot as before). Bring gently to the boil and allow to bubble away, stirring for 2-3 mins.
5. After the 20-25 minutes, remove cake carefully from the oven and pour over the topping very slowly, to avoid the cake collapsing (see image above). Return to the oven and bake for a further 10-15 mins until the top is bubbling and the cake well risen.
6. Allow to sit for up to 30 minutes before serving. It can be reheated in the microwave the next day – if there's any left!!!