Back to News 04 May 2020 by Kela Hodgins in Food & Recipes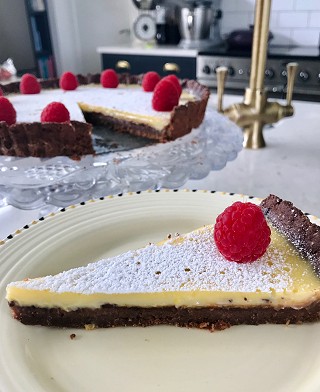 If I see Lemon Tart on a menu I'm always tempted to try but often am disappointed by soggy pastry or an insipid lemon filling.
This recipe is none of the above!!
The shortest of pastry is crumbly, rich and enhanced by cocoa powder. The filling is luscious, light and zesty, perfectly balancing the pastry.
The key is to handle the dough at a minimum and chill the pastry well before using. I find it helps to make the dough in a food processor very quickly then wrap in clingfilm and chill for at least an hour.
If you roll the chilled dough between sheets of clingfilm it keeps it intact and stops the dough breaking up too much. Once you line the tin, put the uncooked case back in the fridge to chill again for at least an hour before cooking.
I hope you give this a go – it's really worth the steps and not that difficult at all.
Pastry Ingredients:
175g plain flour
25g good cocoa powder
25g icing sugar
125g butter, chilled & cubed
1 large free range egg yolk.
Filling Ingredients:
70g dark chocolate (70% cocoa solids) grated
3 lemons
4 large free-range eggs, beaten
150g caster sugar
150ml double cream
Icing sugar & raspberries to decorate
1. Butter a 23cm springform fluted tart tin. Sift flour, cocoa powder & icing sugar into a food processor. Add the cubed chilled butter and briefly blend. Mix 2 tablespoons of iced water with the egg yolk and add through the tube on the processor lid while the mixer runs. Gather dough into a ball then wrap in clingfilm and chill in fridge for 1 hour, at least.
2. Roll out pastry between sheets of clingfilm, to fit the tart tin. Once tin is lined, prick the pastry with a fork several times. Chill the case for at least 2 hours.
3. Preheat oven to 180C. Fill the empty pastry case with scrunched parchment paper and baking beans if you have them, then bake case blind for 15 minutes. Remove paper & beans then return to oven for a further 5 minutes. Reduce oven temperature to 160C.
4. While pastry case is hot, scatter the grated chocolate over the base & leave to cool slightly.
5. Grate lemon zest into bowl then add the juice of the lemons, the beaten eggs, the cream and sugar. Beat until thoroughly combined. Carefully pour the mixture into the pastry case and return to the oven….be careful not to spill the filling!!
6. Bake for 20 – 30 minutes until the filling is just set. Cool completely before sifting over a layer of icing sugar and decorating with fresh raspberries.