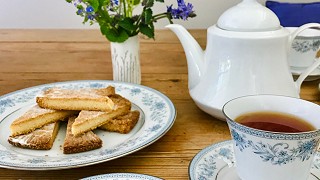 Posted on Monday 11th May 2020 by Kela Hodgins
Melt in the mouth with a gorgeous buttery finish….our traditional shortbread is THE recipe if you want to master this classic!
Latest News
Warmer weather & the best of local strawberries, calls for something light, summery and delicious. Served with a dollop of Greek yoghurt and…
Special Offers
Do you need something to look forward to when travel restrictions lift? Are you craving the company of extended family and friends, counting...
Make a reservation
© Dunowen House 2014. All rights reserved.
Design by Aisling Doyle
.
Web development by Bristlebird Media Works
.