Back to News 25 January 2021 by Kela Hodgins in Food & Recipes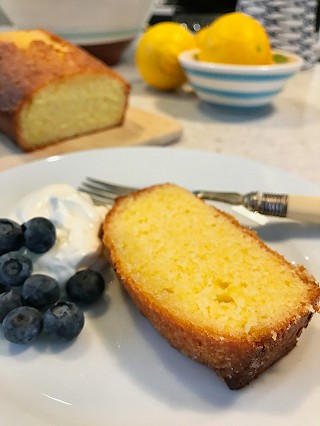 Lemon Drizzle Cake
I'd usually choose Lemon Drizzle Cake in the good old days when you could sit in a coffee shop for time out or a catch up with friends. It always surprises me how it can vary but I think sometimes people guild the lily on this one. Simple is best and this recipe is so easy to make. Sure you'd have it made in the amount of time it would take you to nip to the shops for a pack of biscuits!
Ingredients:
175g softened butter or I like to use "Stork with Butter" brand
175g caster sugar
Grated zest of one large lemon (unwaxed preferrably)
2 large free range eggs
175 g self-raising flour
For zesty topping / drizzle:
Juice of 2 large lemons
100g cater sugar
1. Preheat the oven to 180C / 170C Fan / Gas 4. Butter a 2lb loaf tin.
2. Cream the butter, sugar & lemon zest together until light and fluffy. Add eggs one at time, beating well between each one. Alternate adding in the sifted flour and give everything a good mix.
3. Spoon the mix into the prepared tin, level the top and pop into the preheated oven for 40-45 mins. It is ready when a skewer inserted comes out clean.
4. While cake is in the oven, mix together the juice and sugar for the topping. When you take the cake out of the oven, keep it in its tin and prick it all over with a skewer while it is still hot. This will create holes that allow the drizzle to seep down into the cake and give it that really moist zesty taste.
5. Gently pour the juice all over the top of the cake, keeping the cake in the tin. Move to a wire rack and allow to cool completely before removing the cake from the tin.
6. Serve sliced as is or with some fresh berries and yoghurt for a little extra treat.