Back to News 21 December 2020 by Kela Hodgins in Food & Recipes
I can't believe that when I started Cake Monday back in April, we would still be facing such an uncertain few months ahead of us. I do take solace from consistently being able to bake and distract myself with the weekly ritual of cake, I think a few of you might be the same!
This final recipe is perfect for a Christmas Day dessert if you fancy something different to trifle and plum pudding. It has all the seasonal elements of fruit and spice but a light zingy base of whispery meringue, lemon curd and whipped cream.
I used the syrup from tinned cherries, then added a cinnamon stick, star anise and orange zest to give it that mulled spice lift. You can poach plums, pears and cranberries in this too, they all work brilliantly as a topping for the pavlova.
Thank you all for following our posts over the year and for trying out the recipes yourselves. It was great to get feedback and to meet so many new followers, even if it was only virtually.
Hopefully 2021 will give us the opportunity to meet in real life too!
HAPPY CHRISTMAS and look forward to a better NEW YEAR in 2021

Mulled Fruit Pavlova
This recipe can be used to make one large Pavlova or do what I did and make cute individual ones.
Ingredients:
5 x Free Range Egg Whites
1/4 tsp salt
1/4 cup / 60 mls cold water
250g caster sugar
1 tsp white wine vinegar
1 tsp vanilla extract
1 heaped tbsp cornflour, sifted
Lemon Curd, Whipped Cream and Fruit to fill.
1. Preheat oven to 100C fan or 120C regular. Line a baking tray with parchment and trace out one large 6inch circle or smaller circles for individual portions.
2. Whisk the egg whites and salt using a handheld or free-standing mixer until the form medium-stiff peaks. Do not over whip at this stage.
3. Slowly add the cold water in a drizzle while still whipping on a low speed. Sprinkle in the sugar a spoonful at a time then whisk at high speed between each addition until it forms stiff peaks.
4. Gently fold in the sifted cornflour, vinegar and vanilla extract.
5. Add mounds of meringue to the large or small circles on the baking tray and using a spatula, shape upwards to form the design as below.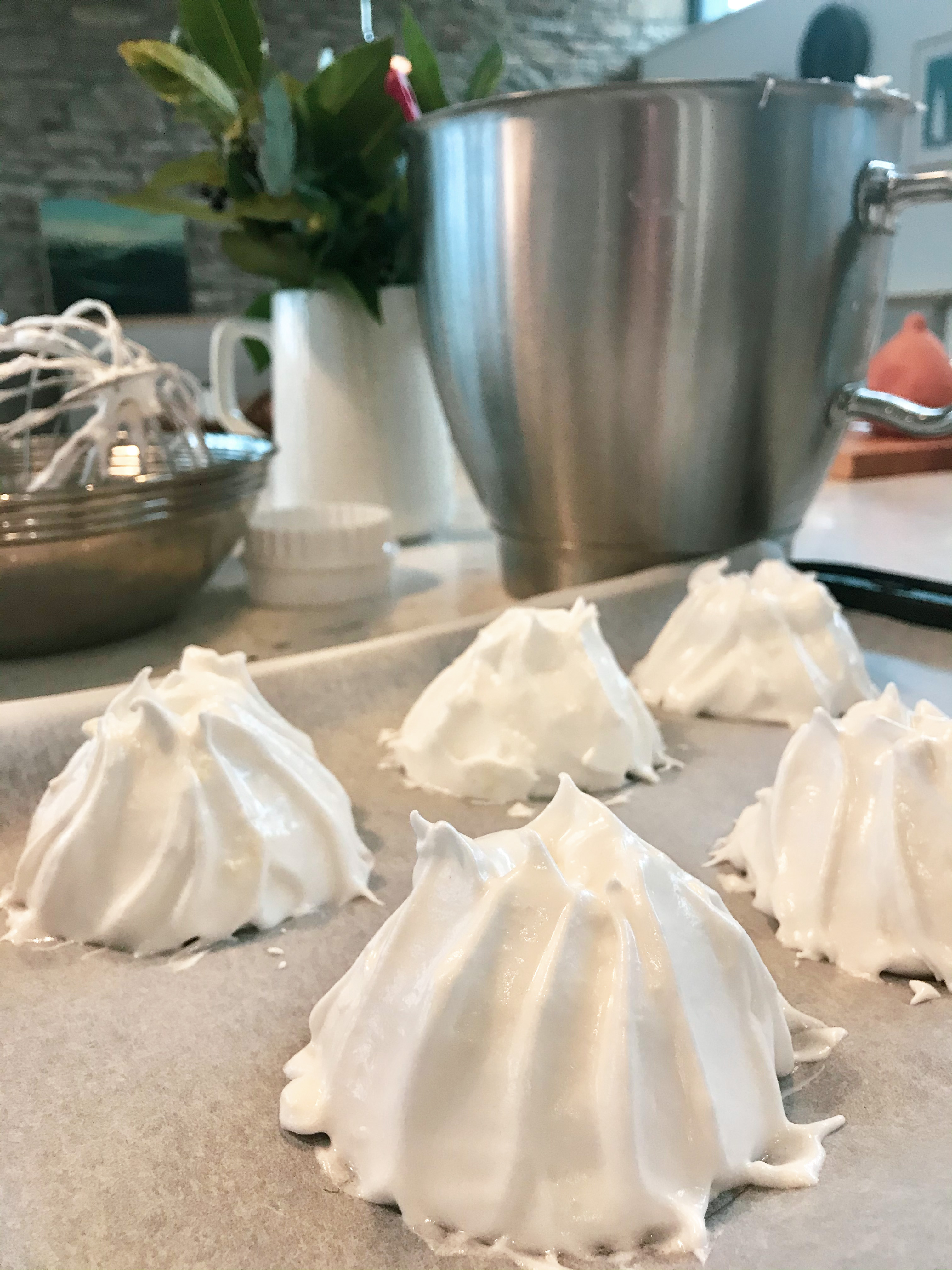 6. Bake for an hour until the meringue is a very light brown colour then lower the oven by 10C and bake for another 30 minutes. You can then turn off the oven, leave the meringues inside to cool for at least another hour or overnight. DO NOT open the door or they may collapse.
Mulled Fruit Filling:
You can fill these Pavlovas with fresh fruit and cream but at this time of year, the mulled winter fruits make it feel a little more seasonal.
1 tin stoned cherries, syrup drained into a small pot
4-6 plums, stones removed and each sliced into 6 pieces
Good handful fresh / frozen cranberries
Strips of orange zest
1 x cinnamon stick
1 x Star Anise
Soft brown sugar
1. Place the cherry syrup (or other tinned fruit syrup you prefer) into a pot with the orange zest, spices and plums. Bring to a gentle simmer until plums start to soften.
2. Add in the cranberries, cherries and enough brown sugar to taste.
3. Bring back to a gentle boil, to dissolve sugar, soften the cranberries and thicken syrup a little. Remove from heat and allow to cool before spooning over the Pavlova.