Back to News 30 November 2020 by Kela Hodgins in Food & Recipes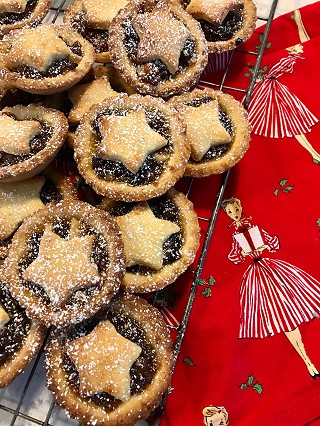 I love having mince pies around when we are putting up the tree and decorating the house. It seems that the Christmas decorating has started earlier this year, so maybe now is a good time to feature Mince Pies!
I prefer little bite-size pies, made from sweet shortcrust pastry and with a star as a lid. Others in the family like the bigger puff pastry versions but that might just be the gluttons!
TIP 1: I use homemade mincemeat but if you prefer to use ready made, you can improve the taste and texture by adding the zest of an orange, chopped almonds, chopped figs and a good splash of whiskey or brandy!
TIP2: I am very happy to use frozen puff pastry, just try to get the all-butter one if possible.
If you use the technique below for the puff pastry pies, it's a great little knack and less fiddly.
Hope you like the recipes…..

Shortcrust Mince Pies
These little bite-size pies are made in a yorkshire pudding tray, so quite shallow. It works well though in regular tins too. Put a full lid on top if you prefer instead of the star shape.
Ingredients:
This makes 12 large or 20-24 small pies.
Preheat oven to 180C fan / 200 C reg.
350g luxury mincemeat (homemade or ready bought – see tip above)
200g plain flour
40g caster sugar
75g ground almonds
125g butter, cold & diced
1 large free-range egg, lightly beaten
1. To make the pastry, place the flour, almonds, sugar and butter in a food processor and blitz until it resembles fine breadcrumbs. Slowly add the beaten egg in through the feeder tube until it starts to come together.
2. Tip onto floured work-surface and bring together with hands, kneading lightly. Wrap in clingfilm and chill in fridge for at least one hour.
3. While pastry chills, lightly grease the baking tin you will be using. Empty the mincemeat into a bowl and stir to make sure all the ingredients are well distributed.
4. When pastry has chilled, remove onto floured surface and thinly roll out. Cut out circles with a fluted cookie cutter to fit the tins you are using. Press gently into each hole then add mincemeat.
5. Place a star on top or if using a full lid, make sure to press the edges all around to seal. Brush tops lightly with milk then pop into the preheated oven. Bake for 10 minutes if small and up to 20 for larger pies.
6. Remove onto wire tray to cool then dust with icing sugar if you like. Best served warm with fresh cream!
Puff Pastry Mince Pies
Ingredients:
Two sheets of ready-roll puff pastry (all-butter if possible)
Mince meat
1 large free-range egg, lightly beaten
Demerara sugar for sprinkling
Preheat over to 180C fan / 200C reg. I use as 12 hole bun tin to get the pie shapes.
1. Roll out the sheet of pastry a little thinner so that it hangs over the sides of the bun tin by a few centimetres. Gently press the pastry down into a dent in each hole.
2. Spoon the mincemeat into the dents to fill. Brush around the edge of each hole with the beaten egg.
3. Roll out the other pastry sheet then lay across the top of the tin so it lines up with the bottom sheet, press to seal and lightly dust the top with flour.
4. Using a cookie cutter slightly larger than the bun tin holes, press down over the pastry lid to cut circles around each hole. Peel away the excess pastry so you have 12 flat topped pies in the tin.
5. Place a baking tray over the top then tip upside down so that each pie falls out of the tin and onto the tray, right side up. Brush the pies with beaten egg, make sure all the edges are sealed then sprinkle with demerara sugar (see image below)
6. Bake for approx 20 minutes until puffed up and golden. Serve warm with cream.