Back to News 09 November 2020 by Kela Hodgins in Food & Recipes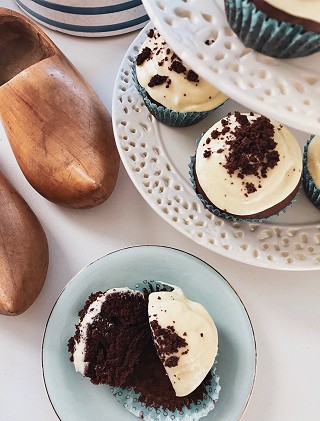 For the week that's in it, this American classic was requested by a few of you. I don't like using red food colouring preferring to get the deep rich colour from the chemical reaction between the vinegar, buttermilk and bicarbonate of soda.
If you prefer a more intense red colour, feel free to add 1/2tsp of red colouring paste or a couple of drops of liquid food colour to the mix.
The icing is a satiny white chocolate topping, made from combining melted white chocolate with well beaten icing sugar, butter and a cooked milk & flour mixture. Again if you prefer a cream cheese or a butter cream icing, fire ahead – they will still taste delicious and indulgent!
Red Velvet Cupcakes
This recipe makes 24 cupcakes.
Cupcake Ingredients:
75g good quality cocoa powder
1.5 tsp vanilla extract
125g softened butter
250g caster sugar
4 egg yolks
240ml buttermilk
325g plain flour
1tsp bicarbonate soda
1tsp cider or white wine vinegar
White Chocolate Frosting:
200ml full fat milk
3 tbsp plain flour
225g white chocolate, broken into pieces
200g butter softened
300g icing sugar
1. Preheat oven to 170C fan or 180C regular. Fill 2 × 12-hole cupcake tins with papers.
2. In a small bowl mix together sifted cocoa powder and the vanilla extract. Leave to the side.
3. In a large bowl beat the butter and caster sugar together with an electric mixer until light and fluffy. Add the egg yolks one at a time, beating well between each addition. Add the cocoa & vanilla extract mix then beat again until well combined.
4. Stir the buttermilk into the mixture, one third at a time. Alternate each third with the addition of a third of the sifted flour until both buttermilk and flour have been well mixed into the batter.
5. Mix the tsp of bicarbonate with the tsp of vinegar then add this to the batter. Still using the electric mixer, beat the batter for at least 2-3 minutes until it is smooth and glossy looking. (See image below). Spoon into cases, filling approx 3/4s of the case.
6. Bake for approx 18 minutes until they are well risen, firm to touch and a skewer comes out clean when inserted. Remove and allow to cool fully on a wire rack.
7. To make the frosting, first whisk the milk and flour together in a pot over a medium heat. Keep whisking until combined and the mix starts to bubble and thicken. Remove from heat and allow to cool.
8. In a separate bowl, melt the white chocolate over a pot of simmering water. Set this aside too to cool down.
9. In a large bowl, beat the butter and icing sugar together until fluffy. Add the cooled white chocolate and beat again, then the milk and flour mixture. Beat all together until smooth. You can fill an icing bag and pipe the frosting on for a smooth finish or spoon on top of each cupcake. I like to crumble up one cupcake and use the crumbs to decorate the frosting but you can use any other decorative touches you like – sprinkles, chocolate chips, crushed up maltesers……