Back to News 19 October 2020 by Kela Hodgins in Food & Recipes
We grow a lot of Crown Prince Pumpkins in the veg garden every year and this year's crop was bumper. I know many of you like to use seasonal pumpkins for home & Halloween decor but I'd love to see more people eating it too.
Our weekly Cake Monday has a few savoury additions to give you a little bit of veggie inspiration. If you can't get a pumpkin you'd like to eat, replace the recipes with Butternut Squash instead.
Don't worry though, there's a Cake recipe in there too!
Recipes:
Pumpkin Cake with Maple Syrup Cream Cheese Icing & Pumpkin Seed Toffee Crisp
Pumpkin Risotto
Pumpkin & Cashel Blue Cheese Arancini
Pumpkin Cake with Maple Syrup Cream Cheese Icing & Pumpkin Seed Toffee Crisp
I used my reliable Carrot Cake recipe to make these and just replace the carrot with grated pumpkin flesh. You can use a regular loaf tin to bake this but I decided to use my mini-loaf tins to make them extra cute.
The addition of the maple flavoured icing and the pumpkin toffee makes them that little bit different & delicious.
Ingredients:
150g light soft brown sugar
150ml sunflower oil
3 large free range eggs
150g self-raising flour
1 tsp bicarbonate soda
1 rounded tsp ground cinnamon
250g grated pumpkin flesh
100g raisins
Maple Cream Cheese Icing:
50g softened butter
50g cream cheese
2 tsp maple syrup
125g icing sugar
Pumpkin Seed Toffee: (only have this in US measurements!)
3/4 cup caster sugar
1/4 cup golden syrup
3 tablespoons water
3 tablespoons melted butter
1 cup pumpkin seeds (I use the un-toasted ones)
3/4 tsp bicarbonate soda
1. Preheat oven to 180C or 170C fan. Lightly grease the cake tins or tin of choice.
2. Whisk together the sugar & oil in a bowl then add in the eggs one at a time, whisking between each addition.
3. Sift the flour, cinnamon & bicarb soda into this mix, folding gently. Add in the grated pumpkin and raisins and combine thoroughly.
4. Divide mix between the mini-tins or pour into the large loaf or other similar tin. Bake in the preheated oven – 25 mins for the small loaves or 40 mins for a larger cake. They should be well risen, firm to touch and a skewer inserted come out clean. Remove to wire rack to cool before removing from the tin to cool completely.
5. To make the icing, beat the first 3 ingredients together in a bowl until creamy, then beat in the icing sugar until lightly & smooth.
6. To make the Pumpkin Seed Toffee, add the sugar, golden syrup and water to a heavy bottom medium saucepan and place over a medium heat, stirring with a wooden spoon until all the sugar has dissolved. Continue to stir for another 10-15 mins until it begins to turn a light golden brown colour. Add the butter & stir until it melts. Next add the pumpkin seeds, stirring constantly until they start to change to a golden brown colour too. Finally add the bicarb soda and stir for one minute (it will foam up a little).
7. Pour the toffee mix onto a baking sheet lined with parchment. Spread out into an even layer and leave to cool. Once cooled, you can break pieces off for decoration or just to eat as a sweet treat!!
8. To assemble, spread the icing over the top of the cake then decorate with pieces of the toffee and if you have them, some lovely Autumnal Nasturium petals.
Pumpkin Risotto
I love Risotto but am quite particular about how it's made – nothing worse than a dry porridgy texture!! You really need to have the proper rice (Arborio or Carnroli), hot stock, real butter & Parmesan (no low fat nonsense here), white wine & time – be prepared to dedicate at least a half an hour to the stock ladling & rice stirring process!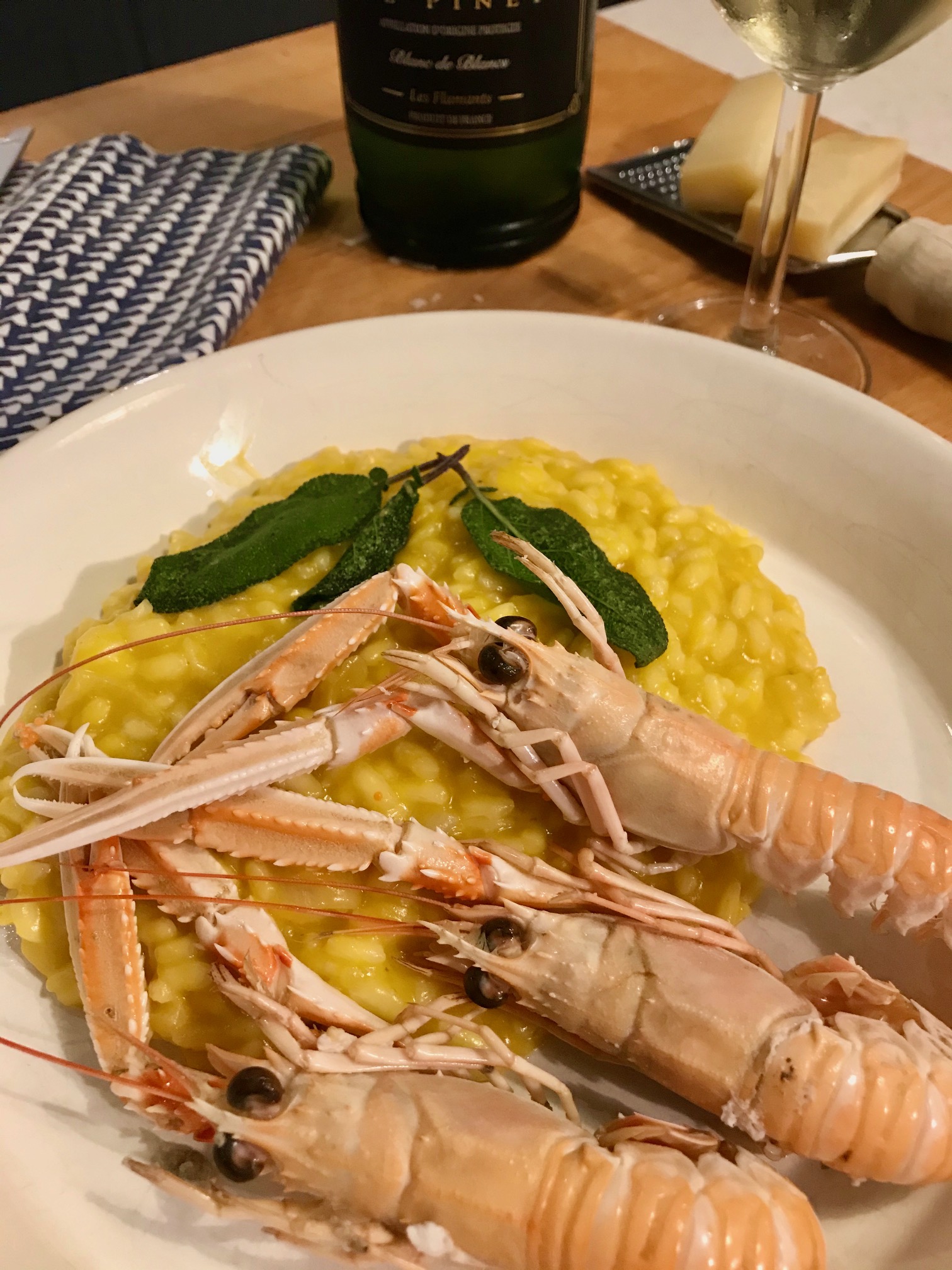 Ingredients:
400g – 500g peeled & chopped pumpkin (or butternut squash)
Butter
1 onion or 3 shallots finely diced
1.2 litres hot chicken or veg stock
400g Arborio or Carnaroli rice
Pinch saffron threads
Glass of white wine & another for yourself ;-)
Butter & lots of freshly grated Parmesan to finish
1. Preheat oven to 180C. Toss the chopped pumpkin in a drizzle of olive oil, salt & pepper then roast in the oven for approx 30 mins, tossing a couple of times. Remove when tender then puree with some stock or water until smooth. Leave to side.
2. Melt a good knob of butter & a little olive oil in a heavy bottom saute pan / pot. Add the onion / shallot and some salt, then cook over a low heat until translucent and soft.
3. Keep the stock simmering away in a pot on the hob, you will be ladling from the pot into the risotto pan.
4. Add the rice to the sauted shallots and stir around the pan until well coated. Pour in the white wine if using and simmer until it has evaporated. Next begin to add a ladle of stock, stirring well between each addition until the stock is absorbed. Add in the saffron threads if using.
5. For the next 20-30 mins, keep adding the stock slowly and keep stirring. You know when the rice is cooked when the grains are creamy in texture, soft but with a slight bite. If you've used all the stock and it's still not cooked, add a bit of hot water. You don't want it to be totally dried out.
6. When cooked, stir in the pumpkin puree, about 50g Parmesan and a generous knob of butter until all combined. This will make the Risotto creamy & glossy.
7. The dish is perfect served on its own or topped with fried Sage leaves. We served this with some fresh West Cork prawns in the shell.
Pumpkin & Cashel Blue Cheese Arancini
If you have any leftover Risotto, these Arancini are a great lunch or supper for the next day. I stuffed these with Cashel Blue cheese but they're great with Mozarella or another semi-soft type flavoursome cheese.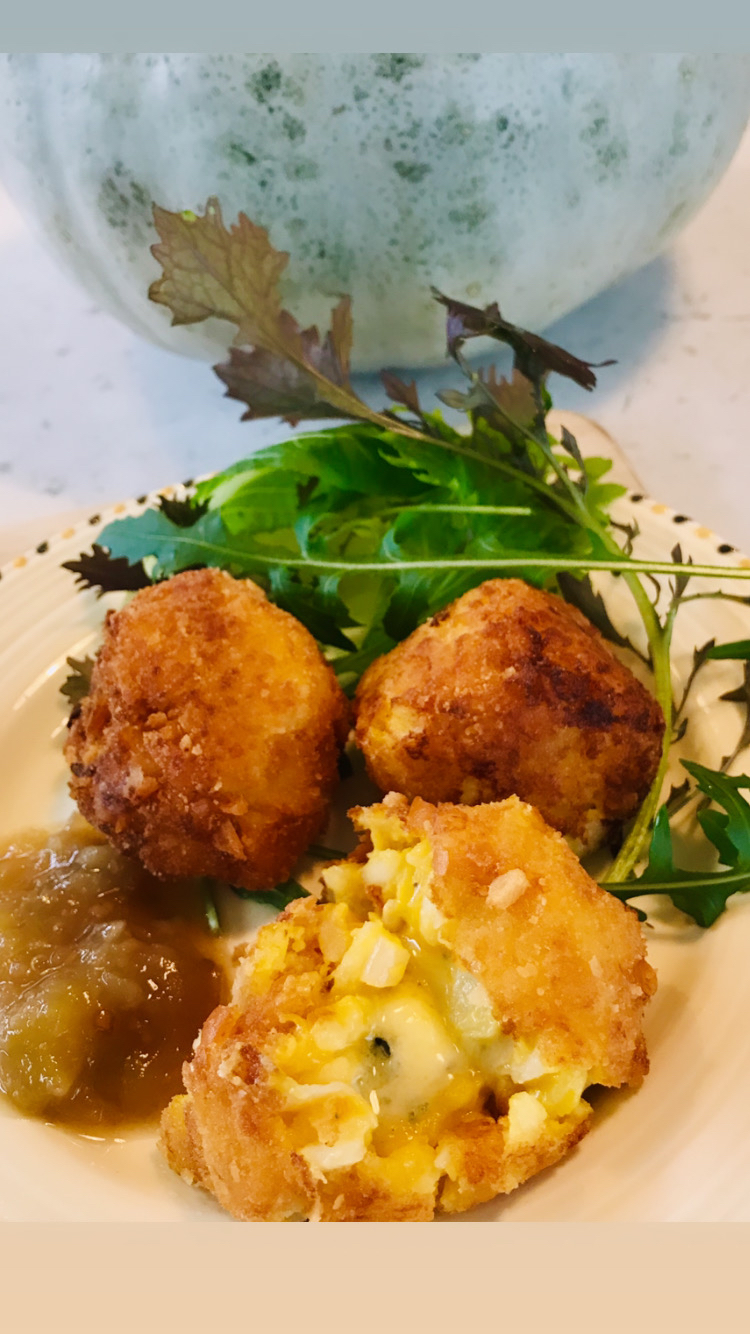 Approx 500g leftover cold risotto
1 egg, lightly beaten
Cashel Blue or other cheese, cut into chunks
Dry breadcrumbs, such as Panko or those made from blitzed hard bread
1. Mix the egg into the risotto until combined.
2. Take spoonful sizes of the mix, then press a piece of cheese into the middle. Form the rice around the cheese then toss the balls in the breadcrumbs until covered (see image below).
3. Chill in the fridge for half an hour. These can be popped in a deep-fat fryer but if like us you don't own one, then fry in a pan with about 5cms of sunflower oil. Turn until golden brown all over.
4. We like to have these with a salad of peppery leaves from the garden & some homemade chutney.