Back to News 08 September 2020 by Kela Hodgins in Food & Recipes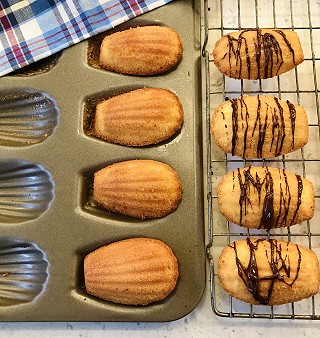 I've been wanting to make proper Madeleine cakes for ages, so was delighted to recently pick up one of the scalloped tins they are traditionally made in.
Light, delicate and melt-in-the-mouth, these are normally eaten on the day they are made and served with tea. I tried out a few different recipes to get one that lasts a bit longer than one day – the recipe makes 30 so even for me that might be just a but too many to polish off in one sitting!! Adding ground almonds with the flour keeps them moist, while storing them in an airtight container means you should still have some the next day.
As this was my first time to use the tin, it took a few goes to get the Madeleines out without sticking.
TIP: Grease with butter between filling and do not overfill the scallops. Do not wash the tin with washing up liquid but only hot water & a sponge. If it's not too bad, just wipe out with a damp cloth. I find building up a slight layer on the tins over time makes it easier to remove the cakes. The same is true for bread tins – never wash them, just wipe them out.
The same basic recipe can be adjusted by drizzling some with melted chocolate or dust others with icing sugar. This recipe makes approx 30 cakes.
140g butter, plus extra for greasing the tin
3 eggs & 1 egg yolk
1 tsp almond extract
140g caster sugar
115g plain flour
25g ground almonds
1 tsp baking powder
1. Preheat oven to 190C or 180C fan oven. Lightly grease the Madeleine tin.
2. Melt the remaining butter gently in a small saucepan, then leave to cool slightly while you prepare other ingredients.
3. Put the eggs, egg yolk, sugar and extract in a large bowl and whisk until pale and thick. This will take at least 5 mins with an electric mixer and should nearly double in volume.
4. Sift in the flour & baking powder then add in the ground almonds. Gently fold until well combined.
5. Lastly pour in the melted butter and fold into mixture.
6. Spoon the mixture into the prepared tins and bake in the preheated oven for 8-10 minutes until golden brown.
7. Leave to cool slightly before carefully removing, then cool fully on a wire rack. It might take you a few attempts to get them out of the tins but eating the roughed up ones is no hardship. The ones pictured below were the first or second batch, it was only the third use of the new tin that got them almost perfect.
8. Drizzle melted chocolate over, dust with icing sugar or just eat plain with a lovely cup of tea (Earl Grey for me).