Back to News 24 August 2020 by Kela Hodgins in Food & Recipes
It's almost the end of August and hopefully the children are going back to school soon. Things we took for granted in the past are no longer a sure thing in this strangest of years.
However, this time of year still means blackberry picking for us and you're not allowed leave the house for a walk without a bag in your pocket to pick berries from the hedgerows around the house. The recent storms have also meant a lot of early windfalls in the Orchard, so this week I'm giving you THREE different recipes to use these seasonal fruits in.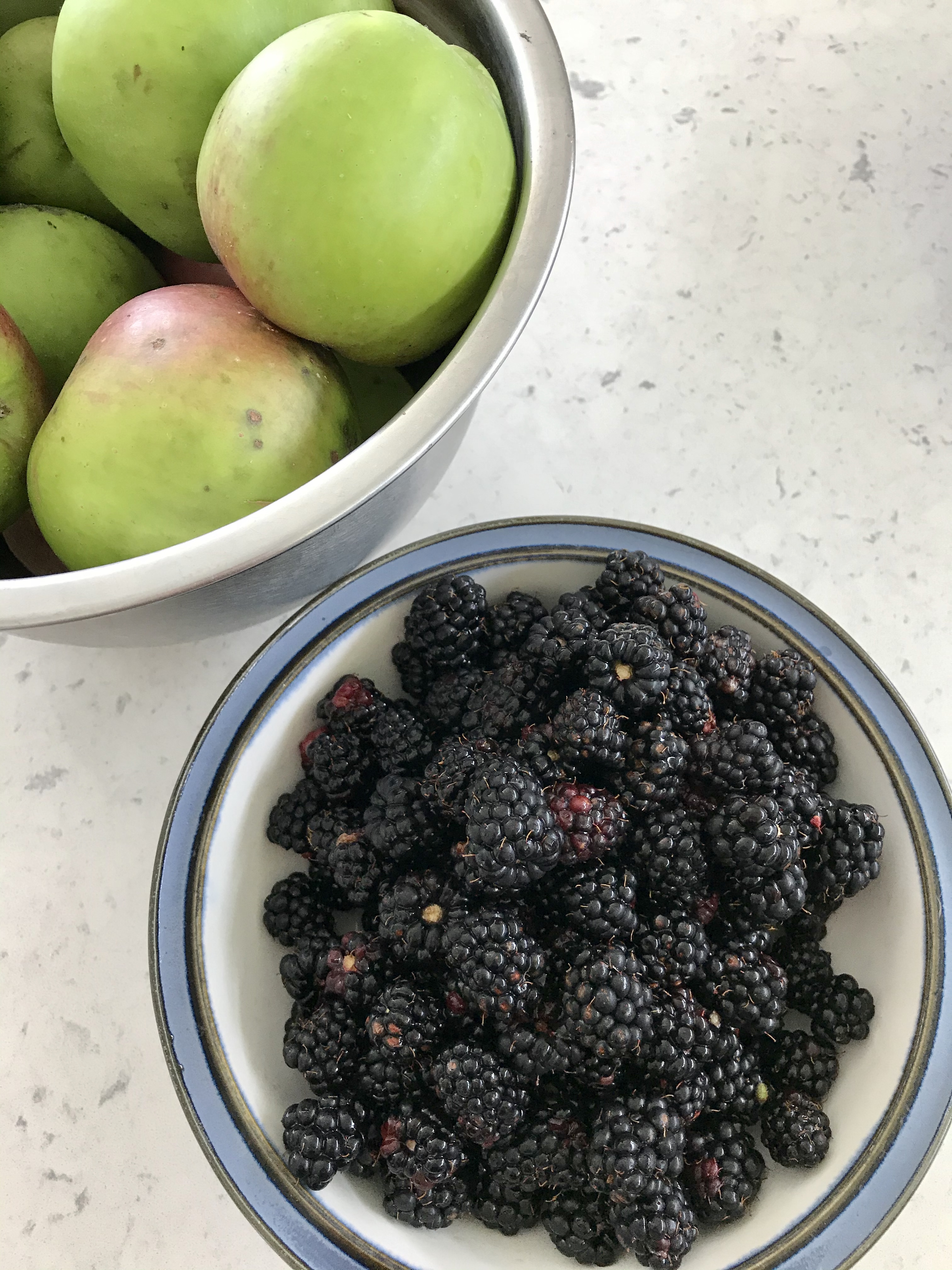 Blackberry & Apple Crumble
The ultimate Autumn dessert and so easy to make. I keep it simple and tend not to add oats or nuts to the topping but fire ahead if you prefer.
I have a simple equation when it comes to Crumble topping – 2:1:1 – twice the amount of plain flour to demerara sugar and butter. For example, in this recipe I use 200g flour to 100g sugar and 100g butter. Remember this ratio and you can increase or decrease the quantity to suit the number you are baking for.
Topping:
200g plain flour
100g Demerara sugar
200g salted butter
5-6 medium cooking apples (these are Bramleys from the garden)
200g or a couple large handfuls of blackberries
1. Peel & slice the apples then cook lightly in a saucepan with 5cm water until they have broken down a little. You don't want them to go to mush, so keep an eye on it. When cooked add caster sugar to taste – the apples at the moment are quite bitter so they needed a bit more sugar than usual. Just add & taste & add more if you need to.
2. Pour the apple into an oven proof dish and sprinkle the blackberries over the top.
3. The easiest way to make the crumble topping is to put the 3 ingredients in a food processor and blitz until consistency of breadcrumbs. You can also rub the ingredients together in a bowl instead if you prefer.
4. Spread the topping over the fruit then bake in a preheated oven at 180C until the topping is golden brown.
5. Remove and serve while warm with custard, cream or vanilla ice cream…or all three if you like!!
Blackberry & Apple Muffins
These would be great for back to school lunch boxes or breakfast in a hurry.
6 tbsp sunflower oil, plus extra for greasing
280g plain flour
1 tbsp baking powder
120g soft light brown sugar
150g blackberries
250g apples, peeled & finely diced
2 large free range eggs
250ml buttermilk
1 tsp vanilla extract
40g demerara sugar (for topping)
1. Preheat oven to 200C and grease a 12-hole muffin tin.
2. Sift the flour & baking powder into a large bowl then stir in the soft brown sugar and the diced apple.
3. In a large jug combine the buttermilk, eggs, vanilla extract and oil together. Pour this mixture into the dry ingredients in the bowl, then add in the blackberries.
4. Fold everything together gently being careful not to over-mix.
5. Spoon mixture into prepared muffin tin then sprinkle the demerara sugar over the top of each muffin.
6. Bake in preheated oven for approx 20 mins until well risen, golden brown and firm to touch.
7. Leave to cool in the tin for 5 mins then turn out onto a wire rack to cool completely.
Blackberry Scones
This week instead of my usual scones for guests, I added a large handful of blackberries and the grated zest of a lemon. Served with homemade blackberry jam, they were delicious!
This recipe makes lots, so freeze anything you don't think you'll eat on the day. They can be defrosted in the microwave for a little mid-morning treat later.
900g plain flour
3 heaped tsp baking powder
50g caster sugar
175g butter, room temp
425ml buttermilk
3 large free range eggs
Finely grated zest of one lemon
1. Preheat the oven to 200C. Sift the flour, baking powder and sugar into a large bowl.
2. Rub the butter into the flour mix until it resembles breadcrumbs.
3. In a large jug whisk together the buttermilk, eggs and lemon zest. Make a well in the centre of the dry ingredients and pour in the wet mix.
4. Using your hands or a large spoon, bring together the mixture until it starts to form a dough. Empty dough onto a lightly floured surface and knead gently until the dough comes together.
5. Flatten the dough out to a thickness of approx 4cm high. Cut out using a scone cutters and place on a baking sheet, that's been lightly oiled. Brush the top of the scones with a little beaten egg and sprinkle granulated sugar over the top.
6. Bake in the preheated oven for 12-15 minutes until risen and a nice light golden brown on top.
7. Eat while warm with butter and your choice of jam.