Back to News 29 June 2020 by Kela Hodgins in Food & Recipes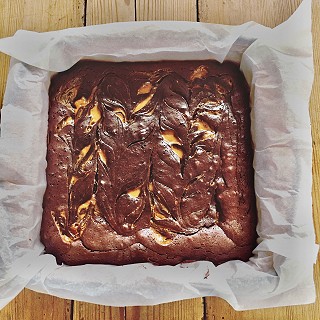 When I started Cake Monday in March, it was a form of distraction to keep us busy and count down our days in lock-down. In those darkest of days, I couldn't imagine how we would be able to open up again and get back to welcoming guests.
Well today was a milestone…Ireland moved into the next phase of reopening and we were able to welcome our first guests in 4 months.
I am offering our guests the option of a "Dine at Home" menu and have included our most popular dessert on the list. If I was to ever remove these Brownies from our year-round menu there would be a riot!!
So if you like brownies and love salted caramel, these crowd pleasers should be added to your baking repertoire.
You can make your own salted caramel or you can use the handy shortcut suggested in this recipe….they still work out delicious.
Hopefully this Cake Monday is the start of good things and a return to doing what we do brilliantly in Ireland – warm welcomes and enjoying ourselves.
Salted Caramel Brownies
175g dark chocolate (55-70% cocoa solids, buy best you can)
175g butter, cubed
25g cocoa powder (good quality)
3 eggs
225g soft brown sugar
1tsp vanilla extract
100g plain gluten free flour (I use Doves brand)
1/2 400g tin dulce de leche or caramel
Sea Salt flakes
1. Preheat oven to 160 degrees (150 degrees fan oven) & line base & sides of a 20cm square cake tin with parchment paper.
2. Melt chocolate, butter & cocoa powder in bowl over a saucepan with few cm of simmering water. Remove from heat once melted.
3. In a separate bowl, whisk eggs, brown sugar & vanilla extract until light & creamy. Continue to whisk, then add in the melted chocolate / butter mix.
4. Sift in flour & fold with a spatula or metal spoon. Pour mixture into prepared cake tin.
5. Mix seasalt flakes in caramel to taste then using a teaspoon drop approx 6-8 blobs of caramel into cake mixture in tin. Using a skewer or knitting needle swirl the blobs around so you have a marble effect. Sprinkle top with some of the seasalt flakes.
6. Bake in the heated oven for 15-20 minutes. The centre should still have some wobble, don't be tempted to overcook or it will be dry & cakey. Leave to cool then cut into squares.
7. Drizzle remaining caramel over the top if required, serve with fresh cream / ice-cream & raspberries.