Back to News 01 June 2020 by Kela Hodgins in Food & Recipes
Mojito Tray Bake Cake
It's June 1st and the weather is stunning in West Cork! Time for something light and zesty that reminds you of Summer holidays…Mojito!!
I love a Mojito but they can be rocket fuel! This recipe gives you the best of the cocktail without the alcohol and of course, it's cake which is a win-win in our book :-)
The sponge is so simple, just put all the ingredients in a bowl together and beat for 2 minutes! The sponge is soaked in the mint & lime syrup after baking, so this cake will store great for up to 5 days in an airtight container.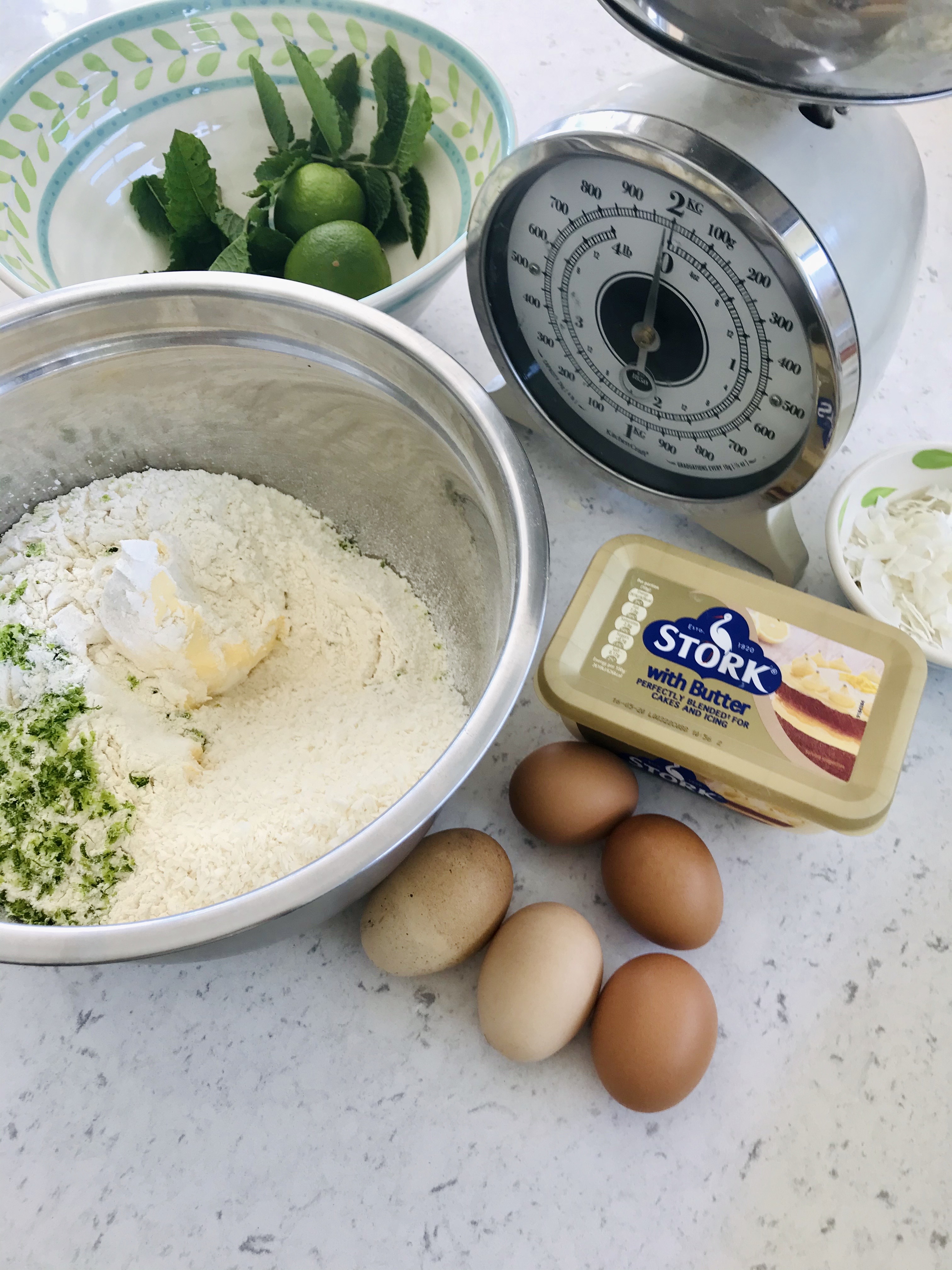 Cake Ingredients:
320g margarine or unsalted butter softened. I like to use Stork with Butter brand for this cake.
270g caster sugar
320g self-raising flour
5 large eggs
finely grated zest 2 limes
50g desiccated coconut
Topping:
75ml water
100g caster sugar
A few sprigs fresh mint
200g icing sugar
finely grated zest of 3 limes
50g desiccated coconut
20cmx30cm baking tin, lined with baking parchment
1. Preheat oven to 170C or 160C fan oven.
2. Put all the cake ingredients in a large bowl and beat for 2 minutes until smooth. You can do this either with a hand-mixer or using a free-standing mixer. Tip into the prepared tin and bake in centre of oven for 45 – 50 minutes until well risen and golden.
3. While cake is in oven, make the lime & mint sugar syrup by putting water & caster sugar together with 2 sprigs for fresh mint in a pot. Bring to boil then turn down and allow to simmer until it has thickened and reduced by half. Remove the mint sprigs then add the juice of 3 limes to the syrup.
4. Toast the 50g desiccated coconut in a dry pan until lightly golden.
5. When cake is ready, remove and prick all over with a skewer. Pour the syrup over the top carefully while cake is still warm then allow to cool slightly.
6. Make the icing by combining the icing sugar with the juice of 1 – 2 limes until it has a consistency that's spreadable. Pour and smooth over cake. Top with the toasted coconut, the grated zest of limes and some sprigs of fresh mint to decorate.
7. Allow to cool before cutting into squares.